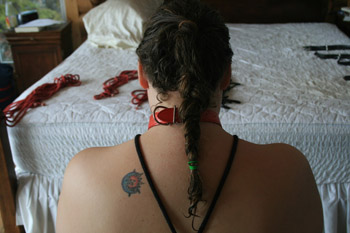 Title: Dakini Dilettante
Business/Group: Temple of the Sacred Flame, Obscene Works
Location:  Varies – I'm a homebody with wanderlust! I currently summer on the East coast of Canada, and winter on a beach in Mexico.
Personal Website:
GetSexSavvy.com (The Official Get Sex Savvy Site – blog, web store, member community)
TempleSacredFlame.org (The Temple of the Sacred Flame – blog, member community, flamekeeper's calender and groups)
ObsceneWorks.com (Media Publishers – blog, book store, author and artist representation, calls for submission)
Biography: Sacred pagan prostitute, married pansexual polyamorist, and kinky sex-positive feminist, I have always had a deep desire to change the world through the spread of sexual empowerment and alternative loving. I am a passionate 30-something Canadian author (both fiction and non) offering up a fresh, open and frank look at sexuality and gender through the lens of the spiritual seeker and sage, encouraging others to find and maintain strong and fulfilling loving relationships.
Experience: rmvankoot.elance.com
Contact:
About my column…
"Bawdy & Soul" This exploration of sacred sexuality and bawdy mythology gives an inside glimpse into the sensual nature of both the ancient and the contemporary world. In every culture and civilization sex holds a special place, whether revered or taboo (or both) and the stories we tell about love and seduction in folk tales and modern myths alike define how we relate to each other and ourselves. Exploring these narratives allows us the opportunity to investigate our erotic roots, to seek out and bring light to the murky depths of our innermost mysteries.