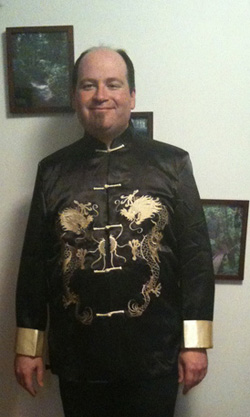 Location: Washington, DC
Personal Website: http://theghidrah.com/
Biography: Mako Allen knows fetish erotica and alternative sexuality from the inside out. He's been in the BDSM community for more than fifteen years. He's polyamorous, a switch, an age player, a community advocate, and an erotic author. He and his poly partners have taught classes about age play at several BDSM organizations including Black Rose and RODS. He's written short fiction for the erotic e-zine Ruthie's Club, as well as the novel "Auntie Eva's Boarder", which was originally published by Pink Flamingo, and is now in its second edition. Auntie Eva's Border, is about female domination and age play, but more importantly also about coming to a place of self-acceptance with one's sexuality. You'll find this not-so-subtle agenda in much of his work. See his website for all the projects Mako and two of his poly partners maintain.
Specialties: Age play, polyamory, spanking, erotic writing, zen storytelling
Experience: Mako's been in the scene since 1997. He's been a member of Black Rose, as well as the Phoenix Society, for which he was the membership chair, briefly. Besides his work as an author of erotica, Mako's been a community activist for the age play community for many years now. He's one of the original creators of the Littles and Baby Pride Symbol, and one of the hosts of the DC/MD/VA age play munch. Mako says his personal mission is "to help others both to come to a place of self-love and self-acceptance, as well as to connect with others like them."
Contact:
About my column…
"Tao of Kink"Taoism is all about living fully in the moment, and experiencing all life's rich joys and pains to the fullest. In the Tao of Kink, Mako explores how to apply these ideas to one's sexual life.