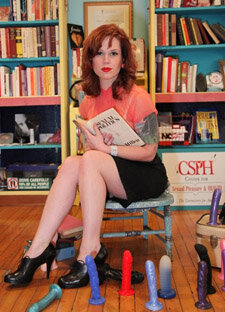 Title: Sexuality Educator, Sexologist
Business/Group: The Center for Sexual Pleasure and Health, Oh Megan
Location: 250 Main Street, Pawtucket, RI
Personal Website: www.thecsph.org, www.OhMegan.com
Biography: Megan Andelloux is the founder and director of The CSPH. She is a nationally certified sexuality educator through The American Association of Sexuality Educators, Counselors and Therapists and a board certified sexologist through The American College of Sexologists.
Ms. Andelloux worked for nine years as a youth-focused sexuality educator in NY, RI, CT, and NJ before bringing her love for teaching at a locally run feminist sex-shop in Providence, RI. It was there that she began to notice adults did not have a space to ask questions and learn about sexuality. She also noticed adults hold many of the same questions teens do when it comes to sexual issues. The challenge was set before her: create a space for adults to safely learn medically accurate, sex-positive information in a comforting environment. Thus The CSPH was born.
Ms. Andelloux lectures internationally at colleges, universities, medical schools, and sexuality institutions on issues surrounding sexual pleasure, sexual health, politics, and erotic justice. To date, she has taught at over three dozen higher educational institutions, including medical schools and Ivy league universities such as Brown, Yale, and Harvard.
She is listed on Wikipedia as an American Feminist, Writer and Sex Educator and on the Erotic Heritage Museum's Hall of Heros, which showcases icons of sexual revolution.
She has worked full-time in the field of Sexual Education for more than twelve years.
Specialties: sexual pleasure, better sex tips, sex and politics, addressing common sexual phobias
Contact:
About my column…
"Talking About the Taboo" Oh Megan from The Center for Sexual Pleasure and Health examines modern American sexual norms and practices, with an aim towards calming our deepest fears.