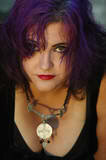 Name: Mistress Simone
Title: Purveyor of Fine Fetish Forays
Business:   The Studio Chicago
Location:  Chicago, Illinois and Saint Louis, Missouri
Personal Website:
http://www.chicago-mistress.com
http://www.thestudiochicago.com
http://mssimone.blogspot.com
http://www.stlouis-mistress.com
http://twitter.com/#!/chicagomistress
http://clips4sale.com/17863
http://www.facebook.com/simone.worthington
Biography:
First thing you should know about me is that leather and community are
part of my soul : not a game, a hobbie or a lifestyle (Styles come and
go).
Labels help define us when we first start out in this life and when first meeting someone new. However, I hate to place spirits in cages so I do not feel labels are all defining on who you are. But for those who desire to know some of mine(in no particular order):
*Woman
*Wife
*Educator
*Leather title holder(International Trainer 2004, First Ms. Illinois
Leather Pride 2008,Ms. Great Lakes Olympus 2008,International Ms. Olympus
2009)
*Sadist
*Pervert
*Fetishist
*Bisexual
*Educator
*Professional Dominatrix
*Mommy
*Closet Geek specifically sci-fi and comics
*Shoe and boot whore
At this point in my journey ,I seek to engage with those who desire to explore deeper into their submission, soul and psyche. My main focus is on my professional sessions and community education/activism.
This year is special as it will be my 20th Anniversary as a lifestyle educator and professional domina.
As a national educator and community activist, I seek to assist our community by helping educate where I can. I will be pleased to discuss the possibility of speaking to your group, munch, slosh or event.
While I enjoy teaching on a wide array of topics, my specialties are CBT, Female dominance, medical play, mummification and needles.
Experience:
Mistress Simone has been a lifestyle and professional Domina for fifteen+ years.
Her community service has included the executive directorship of the LRA, Inc., various auctions and fundraisers, GLLA 2006 and Illinois Leather Sir and boy 2007 judge, LA&M volunteer and giving educational discussions throughout the Midwest. She is headmistress of the Chicago branch of ClubFEM,an organization designed for female dommes and male submissives.
Some of the events she has presented at include Kinky Kollege, NELA, SELF, Shibaricon, Galleria Domain 2 and DomCon. College lectures include Northwestern University, Loyola and University of Chicago.
Contact:
Email is mssimone@chicago-mistress.com
Phone number is 773-991-3908
https://fetlife.com/users/7631
Column Title: Single Tales of a Sadistic Domina
Column Description: Reflections on Sexuality in all forms. Focusing on Female Led relationships and Dominance.