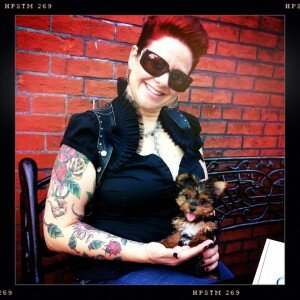 Name: Nina Love
Title: Fashionista
Business/Group: PowerXchange by Nina LLC
Personal Website:
www.NinaLove.Org
PowerXchangebyNina.org
Biography: Nina is a fierce femme, a fashion designer, an educator, a freelance writer, an activist and a Leather Woman.  A native of Baltimore, Nina travels the country full-time: teaching, living, working and loving the in the Leather/BDSM community.  She is the 2013 Mid-Atlantic Leather Woman and an active member of the Lesbian Sex Mafia (LSM) and The Eulenspiegel Society (TES) and is an Emeritus Board Member of the Baltimore Education and Social Society (BESS).  She is proud to be the Education Director for FetFest Con!
Nina has a diverse background in Fashion and Organizational Development and has used this experience to explore identity, self expression and communication in the Leather/BDSM lifestyles.  She owns and operates PowerXchange by Nina, a kinky consignment and altered couture business.
An advocate of education, play and sex, she enjoys presenting on topics such as: Self Discovery: Finding individuality in a community of labels; Communication Skills for your Alternative Relationship; and Head Games: Playing with Emotions.
Nina enjoys giving back to the community whenever she can by volunteering and presenting for events and organizations such as FetFest, Southeast Leatherfest, International Ms. Leather, Black Rose, Dark Odyssey, Leather Leadership Conference, Leather & Leis, The National Coalition for Sexual Freedom and Playhouse Studios.
Specialties: Self Expression, Altered Couture, Fashion
Experience:
2007 – Present * Owner PowerXchange by Nina LLC ( Online Sales & Vending)
2006 – Present * Independent Consultant (Self Expression, Fashion, Communication Skills, Organizational Development)
2004 – Present * Alternative Lifestyle Educator
2013 – Attended Fashion Institute of Technology, New York
2011-2012 – Attended Art Institute of Design and Technology
2004-2006 * Adjunct Faculty (Human Resources)
1995-2006 * Corporate Trainer (Communication/Workplace Development)
Contact:
About my column…
"Fashionista 411" Your guide to fetish fashion & self expression.