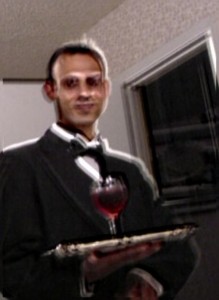 Title: Professor of His Servitude
Location: Austin
Biography: Sea has been aware of his interest in BDSM since early childhood. He has been a BDSM gypsy of sorts for over 13 years and regularly attends social and educational events across BDSM, leather, and fetish communities in multiple cities including Austin, Dallas, Houston, San Antonio, Los Angeles, New York City, and Washington DC. He is proud to call home Austin, a city where a homeless crossdresser is a local celebrity who ran for mayor, a local band bases all its songs around the lead singer's fetish for feet, and adults gather each year to celebrate the birthday of Eeyore—yes, Eeyore from Winnie the Pooh!
Sea has done his share to help, as they like to say there, keep Austin weird. His contributions to the Austin scene include hosting and promoting a fetish night for three years, during which time he wrote and directed, performed in, and arranged music for multiple fetish shows. BDSM influences his artistic expression, which has occurred in the form of fetish photography, DJing music for scene events, dance, and writings. He has also done stand-up comedy at multiple BDSM events.
Sea regularly presents seminars at BDSM events across the country with a focus on communication and psychology, especially the psychology of submissives.
His current projects include speaking at college human sexuality class, visiting vanilla forums and taking a tactful stand for BDSM as needed, and providing information to those seeking out BDSM or ambivalent about their interest.
Experience:
* Member of Advisory Board for weekend conventions DomCon Los Angeles and DomCon Atlanta 2010 to Present
* Special Guest of Honor, DomCon Atlanta 2009
* Chair of Austin TNG, 2003-2007
Presented seminars one or more times at the following events or groups:
DomCon Los Angeles, DomCon Atlanta, GWNN Birthday Bash in Austin, Beyond Vanilla in Dallas, TES Fest in NYC/NJ, Spanksgiving in Saint Louis. And he has presented once or more at the following groups, dungeons, or adult boutiques: SAADE Austin, Voyagers Austin, Austin TNG, Austin Sub Culture, Central Texas Couples Austin, Stations of the Cross, Feminists United student group at Texas State University, NLA Dallas, Fresh Leather Dallas, Alt Group Dallas, TNG Dallas, Club FEM DFW, Dallas Submissive Mentors Program, Houston Erotica Arts Troupe ( (HEAT) hosted by The Kiddie Pool, Club FEM Houston, Odyssey Brian, Dungeon Servitus San Diego, Servitus LA, Black Rose Meeting Washington DC, Sexploratorium of Philadelphia, SHAG of NYC, Baltimore Educational and Social Society.
Contact:
About my column…
"Underground Sea (BDSM Depths)" Discussions about psychology, relationships, and communication with an emphasis on BDSM.