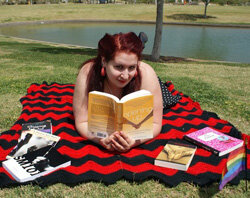 Name: Shanna Katz, M.Ed
Title: Sexuality Educator and Board Certified Sexologist
Business/Group: Owner/Blogger at ShannaKatz.com
Location: Denver, Colorado
Personal Website: www.ShannaKatz.com
Bio:
Shanna Katz, M.Ed, ACS  is a queer kinky disabled femme and board certified sexologist, sexuality educator and professional pervert. From topics like relationship communication skills to non-monogamy, and oral sex to how sexuality and dis/ability intersect, she talks, writes and teaches about the huge spectrum of sexuality, both from personal and professional perspectives. She's using her Master's of Sexuality Education to provide accessible, open-source sex education to people around the country, and is currently working hard to bring sex education and positivity to the Southwest as well as online.
A member of the One Colorado Queer White Allies for Racial Solidarity Caucus, the American College of Sexologists, the Society for the Scientific Study of Sexuality, SPECTRA and the National Coalition for Sexual Freedom, as well as on the board of The Center for Sexual Pleasure and Health (Pawtucket, RI) and The Center for Sex Positive Culture (Boulder, CO), Shanna is actively involved in work towards equality and social justice for people of all identities. Teaching classes at colleges and universities (such as Brown University, Colorado College, SUNY-Purchase, ASU, Hofstra, U of A, etc) is one of her favorite ways to expand horizons. She also loves traveling to speak at conferences, sex toy stores, dungeons, women's groups, LGBTQ centers, art galleries and more, and co-presenting with her partner on looking at privilege in sexuality education and LGBTQ inclusive medical practices.
She has written for many sexuality websites, had a sexuality centric radio show with widespread listeners, has had her erotica published in multiple anthologies, directed queer porn and has recently published her first book "Oral Sex That'll Blow Her Mind" on cunnilingus for partners of all genders. When not blogging, teaching, writing or tweeting about the oh-so-many interesting and awkward moments in her life, you can find Shanna drinking tea, eating cupcakes, and cuddling with her partner and their three rescued cats; Kinsey, Kali and Jasper. For more info, please visit her sexuality education site, www.ShannaKatz.com.
Specialties:
Sexuality Educator (at universities, colleges, conferences, sex toy stores, dungeons, LGBTQ centers, etc) in subjects including but not limited to: relationships, communication, sex play, kink play, intersections of identities, safer sex, LGBTQ communities, sexuality and disability, sex toys, sexual safety, and much more.
Online and Social Media Specialist: using platforms such as twitter, facebook, fetlife, myspace, yelp, and blogs to get your business (and/or self image) to thousands of people. Also, branding rockstar.
Sex Toy Guru: From materials to types to use to cleaning, everything you ever needed to know (plus a little more)
Published Author
Pornographer: Director and videographer of ethical pornography, including for Point of Contact and GoodDykePorn.com.
Model: Freelance including vintage/pin-up, art modeling and kink photography (2011 Sex Blogger Calendar Model).
Sex Coach: Helping people to discover (or re-discover) their sexuality, explore identities, learn to communicate with themselves and their partners, troubleshoot any current issues, work through their sexual histories and more.
Experience: Currently working as a sexuality education contractor, Shanna has worked as as the full time resident sexuality educator at Fascinations, the sex educator in residence at the now closed Hysteria Boutique (in Denver), the Communities Outreach Coordinator for EdenFantasys.com (last decade), and before that, the advice columnist and staff writer for HotMoviesForHer. Additionally, she has presenting across the country in places such as Brown, Princeton, SUNY-Purchase, Colorado College, ASU, U of A, the Center for Sex and Culture, the Center for Sex Positive Culture, the Enclave, the Sanctuary, Femina Potens and more. Her work has been published both in print and online in the subjects of sexual health and wellness, sexuality and disability, sex toy 101, sexual activities and more, as well as in multiple erotica anthologies. Resume and/or CV available upon request.
About my column…
"Unapologetic" A fat, queer, disabled femme looks at the LGBTQ community, size acceptance, sexuality and disability, and much more. Always sassy and speaking her mind, Shanna Katz takes a look at some of the sexuality marginalized communities, and the obstacles that are both facing and within them.