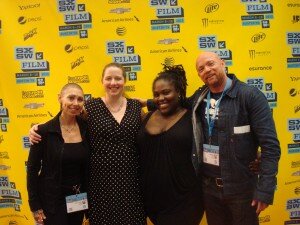 I had been preparing, worrying, thinking about the event for over 4 months, as soon as my presentation was accepted. Although I've been a BDSM speaker for almost 10 years, I'd never been so nervous! I'd always wanted to go to SXSW and now I'd be doing a presentation (for only 15 minutes, but still ;) so I wanted to make sure to do a really great job. An outstanding job. A memorable, gotta-ask-me-back job.
So for months I thought about what I wanted to talk about in those 15 minutes, which points I wanted to emphasize and what my goal was for the presentation. Thanks to the help & feedback of a couple of VERY great friends I kept working and re-working what I was going to say (and what I was going to wear, of course!) to make sure I was the best of my best.
I got into Austin a couple of days early to get a bit settled before the event started full blown and I'm really glad I did. As a presenter I had access to a hotel room right down town across from the convention center (which is anything but cheap) but I knew that if I wasn't close I may be discouraged from checking everything out. One of the things I was surprised by is how casual everyone is from day to night. I had brought enough cocktail dresses for going out every night, but ended up staying in my jeans and slacks the whole time. So packing will be MUCH lighter next time!
Once the conference started, there was so many things going on, it was pretty hard to figure out what to do and when, not to mention where. The event essentially takes over all the hotels and conference space downtown so the hotels & convention center are pretty close, but my walking shoes came in very handy. I admit I didn't take full advantage of the SXSW phone app, between having a new phone & not being good at that sort of thing, it was overly complicated for good-old-fashioned me. Thankfully there were paper schedules and descriptions so I could still find what I needed to.
With a half a dozen presentations regarding sexuality, all at the same time as the business presentations I needed to go to, those decisions were by far the hardest. Support and sticking together is a big part of progressing the sex-positive movement, but I realized the best thing I could do is think a bit more long term and learn how to improve my business so I can contribute more concretely to moving our community forward. Luckily Carol Queen organized one of her own readings towards the end of the event so we all got to meet up even without attending each others sessions.
I was very happy with how my presentation went, I had practiced a lot but still wanted to leave room for a bit of ad-libbing. I ran right on time, so the practicing (and power point slides) helped keep me on target. I don't know if presenters have access to the audience feedback but I'm looking into it. During the presentation people laughed at the 'right' places, were keeping eye contact with me (surprising since almost everyone is usually glued to their smart-phones) and a few lively comments were made both during and after. It was a fantastic introduction to presenting at SXSW, so I'm already planning my submission for 2014.
The business sessions I went to were so incredibly helpful. I always have a question, so I made sure to speak up in every presentation. Especially because of the nature of my business I was hoping to get insights into how mainstream business thinkers might approach it and that's exactly what I got. A few of my favorite moments from the presentations…
1)      Being at the Google/Bing SEO discussion and having both top level execs get really engaged with my question about differentiating my sites from pornography. They were both so positive and encouraging (while acknowledging the "porn mountain" I'd have to climb to reach my goal) and gave me some insight into how to make the most of my search capabilities. Plus they mentioned Kink Academy like 4 other times during the discussion and during the swarm of people they answered after the 'official' session.
2)      Meeting Violet Blue finally after the "Future of the Adult Industry" panel. I've admired her work for a long time and was pretty pleased when she said she'd been impressed by my sites and what I've been doing. It's always nice to hear compliments from those that I respect.
3)      The woman I met after the "Finding Funding as a Female" session who gave me about 20 minutes of concrete feedback on how to talk about my business in the mainstream and investing worlds. These direct suggestions completely changed my thinking and helped me see that I hadn't adapted my 'pitch' from talking to 'consumers' to talking to media and possible backers.
4)      Having a glass of wine and an hour long talk with a panelist who both gave me some suggestions about alternative avenues to help get the word out about my sites, but who I was also able to talk to about her thoughts regarding the 'Fifty Shades' phenomenon and how to improve her own sex life. Sharing specialties at its finest!
5)      Running into the producers of the SXSW Interactive portion of the event in the elevator on the last night, introducing myself (not knowing who they were yet) and then hearing them say what positive feedback they had already heard about my presentation. Now that's a whoo-hoo moment!
Now to what I learned from the experience…
1)      As a business there is a HUGE opportunity for promotions, even without being a part of the official vending section. Guerrilla style marketing on the streets was part of the charm of being there and was certainly part of the spirit that makes SXSW a place for indie businesses to come and make a real impact, regardless of the budget available. I'm known for branding and never being without a Kink Academy or Passionate U sweater or postcards or rulers handy. Ironically I didn't do this at SXSW. I always had business cards handy for one on one interactions, but I completely missed out on the attendee promotions. Next year there will be cheerleaders handing out rulers, awesome promoters talking up the sites and fun posters to promote hot sex ed. Oh yeah…
2)      During my presentation, I wish I had added the designated hash tag #realkink to every single page of my power point. A friend who attended said that there weren't many live-tweets because everyone was engaged while I was speaking, but I should have made it easier to further the conversation to those online. I also wish I had planned ahead more to video-tape the whole presentation. The same (fantastic) friend did a great job recording what she could, but it could've been better with more fore-thinking on my part.
4)      Socialize earlier in the evening. I don't know where everyone went (probably to the 'after parties' I've heard about but didn't seek out) but the corporate sponsored events were done by 7:30ish. It's less focused on networking, but certainly, every moment for every SXSW attendee is a chance for networking.
5)      With my badge I had access to both the Interactive conference and the film showings. I didn't take advantage of the film showings almost at all. I am super glad I made it to the premier of "Sexing The Transman" which focused on Buck Angel and his wife Elayne Angel. It was moving and had a number of universal messages, including ones of hope and self-acceptance. If you haven't seen it yet, you should.
6)      As I mentioned earlier, there's no need to pack any fancy clothing or high heels. It's a tech and 'casual professional' crowd so keeping clothing low-key and comfortable is important. Somewhere between the sweatpants (revolution) I've been sporting for awhile and hipster style.
7)      I do wish I had done a bit more planning in terms of which sessions I wanted to attend before I actually gotten there. It wasn't a huge problem and I didn't get caught in any lines for what I really wanted to see. But I made a point to arrive early so I wouldn't be turned away at the door. I think I could have been more efficient and attended more sessions, but I still consider the schedule I ended up with a success.
8)      Even though I think I can be more efficient attending sessions, I want to make sure to leave time for that 'hallway serendipity' they talk about, because it totally happens. Almost everyone I met, both attending and those that helped run the event were friendly & helpful and a pleasure to talk with. I made some unexpected professional connections and spent more quality time with those connections rather than rushing off to get to a class.
All in all I am so super glad to have been accepted and been part of the SXSWi 2013 experience. I already can't wait to go back!
This was originally posted on CoachingByKali.com