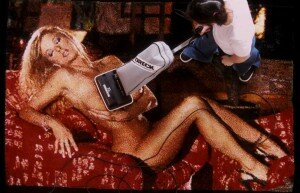 Do you remember that latch-hook rug hanging on your grandma's wall? It may have been orange and brown, with a hint of avocado. Maybe you've only come across them at thrift stores. You might have gotten a kit as a child and pulled those tiny pieces of yarn through their plastic frames. However you encountered latch-hook rugs, I bet they never resembled the work of artist and photographer Whitney Lee.
Lee transforms images from pornography into latch-hook rugs. By working digitally, she creates a pattern using a pornographic still, turning picture into pixels, and pixels into individual threads in her fuzzy works of art.  She started with the idea of the classic nude, but subverted this familiar allusion through the counter-intuitive combination of hobby craft injected with the erotic  While a classical painting might have a woman reclining on a rug, here is a rug with a woman reclining, or even better, a rug with a woman with her head tossed back in pleasure.  It is a bit tongue in cheek; fun but still thought provoking.
While many works start with a blank canvas, the artist sometimes uses found latch-hook rugs, and introduces a retro nude into the abandoned craft. In a short documentary film (LINK: http://www.shortfilmtexas.com/2009/texas-filmmaker-jessica-schoenbaechlers-documentary-hooker-is-unique-story-of-women-art-and-pornography/)  about her work, she tells a gallery patron, "I found the rugs at a thriftshop and then I tried to chose a photograph that was actually from the era the rug was made."  The latch-hook rug was quite the craze in the 70s and images from that era's pornography are quite recognizable in style and tone (and not simply because of the hair styles). The combination of image and medium gives the work an appealing amount of kitsch value. Sometimes, the effort to preserve the found pattern obscures the newly hooked women. "I'm interested in how one will hide the other," Lee says.
Lee presents us with a different way to engage with art and with pornography. This is erotic art you can touch. The work is tactile, and it is a texture that is familiar. Lee makes porn feel more approachable by transforming it into another material. In a way, she is softening pornography, both figuratively and literally.  Her process inevitably results in the blurring of some photographic details.  The images are still recognizable as pornography, but  it reminds me of trying to watch the blocked porn channels as a child with those familiar distorted bars. I could still make out what was going on, but definitely didn't have access to a clear picture. With this work, pornography can sit comfortably between your toes.
As her work began to appear in more galleries (and thus, became more expensive), she wanted to continue to make her work available to the masses. Until recently, she sold kits online via a website called Made With Sweet Love.  The kits included everything a person needed to be able to create their own porn-inspired rug. With these kits, the work comes full circle: her work started off with a traditional craft which became art, and then turned into craft again. In reality, the work straddles both craft and art. The tool used to create these rugs–a latch-hook–looks a bit like an instrument of pleasurable pain and latch-hook enthusiasts are called "hookers," adding yet another element to consider.
In recent years, Lee has stopped focusing on rugs in favor of developing her photography career.  However, I'll take my lesson from years of combing through dusty thrift stores and tell you that these works will be around for some time.