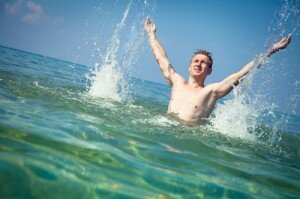 Sometime ago I was watching a young child hear the rhythm of music and unconsciously translate it into joyful movement. She wasn't more than a couple dozen months old. She could barely walk, and yet the music made her effortlessly move – up, down, jiggle, wave, stomp – whatever! She was a bubbling euphoric conduit of unabashed expression. I'm sure many of us have seen the same kind of experience in children and I found myself envious, wondering what happened to me? What held me back from being that free? Why didn't I dance like that anymore?
Fast forward to last year when my boyfriend, Spanky and I were vacationing on the big island of Hawaii. Scheduled at the Kalani Retreat Center on Sunday morning was an Ecstatic Dance party open to the public, and I suppose the pent up child within nudged me to check it out.
We showed up to an outdoor dance floor about the size of a basketball court, with an A-frame like cover screened in at both ends. As the music started slowly, people arrived stretching and meditating with smiles all around. Just a few simple rules in the drug/alcohol-free space: No talking on the dance floor, and respect each other as well as the space around you. Beyond that, the sky was the limit. The music began to wind up with techno, ethno, and house mixes, but usually very little lyrics. People of all shapes and sizes danced, moved, flowed, sweated, laughed, whether alone, in groups, in couples, in patterns or in uniqueness.
A challenge came quickly to the forefront of my being. Here was the opportunity I longed for when envying that child's freedom. Not only were the constrains of conformity and peer pressure removed (None of these people knew me, who cared how I moved?), but this was an environment that encouraged the free expression of sound and movement. They wanted me to push my limits!
So I did! The further into letting go I ventured, the more I realized the only constraint on my freedom was my own fear. The more I let go, the more joyful I felt. The more I moved freely, the more whole I became. Did I stumble at times? You bet! Did I look silly? Probably. The point was not to care. I remembered what it felt like to be as free as the child I once was, and the child I still am. A brief rain storm added to the percussion and I felt cleansed, dancing, moving, thoughtlessly into healthy exhaustion.
Although this simple experience is not particularly new, the fun of the Hawaii Ecstatic Dance Movement has now grown beyond it's roots to many locations (
Click here
to see more about it). Last week I joined several hundred people in Oakland California where they gather a couple times a week. It's the simplest and most profound of concepts. Provide a space that overtly supports the uniqueness of each person's expression in the form of dance/movement and let the fun expand!
Again, every shape and size, color and race showed their stuff. There were women in belly dancing garb, and guys in sweat shorts and hoodies. Sharply dressed transexuals danced next to toned men in ballet slippers. An agile hobbit-shaped man with geek glasses darted around a shirtless, lanky african man who stays right in front of the speakers. Three robust and rounded women danced together gliding shoulder to shoulder, then breasts to breasts, over and around again. Couples danced traditional maneuvers, then collaborated in quartets joining other couples. Everywhere were smiles and eye contact. If I bumped someone there was gentle respect for our space and the diversity of our gig. We rose and we fell to the varied styles of music the DJ churned out. And… there were children. With all the "bigger kids" moving every which way, parents had to make sure the lil' munchkins didn't get caught under foot, but in my perception, they lead the way. Freedom has never felt so whole. Rock on!