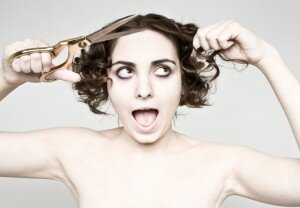 I have always tinkered with my hair style and color. My very first haircut was at my mother's hands and was a chin-length bob. As soon I was old enough to form an opinion, I stubbornly refused another haircut until my father offered to buy the biggest, plushest unicorn in the toy store if I'd cut it again. I grudgingly permitted two inches off the ends and still collected my unicorn, thank you very much.
I had my first perm reminiscent of TJ Hooker in the early 80's, and my first spiral perm in the late 80's. Do y'all remember the work that went into those things? Dear God Almighty, I swear I spent most of the decade in the stylist's chair. Hair scrunchy anyone?
I highlighted my hair for the first time in college and have been coloring it ever since. In fact, it has been changing for so long that I can't remember my natural hair color. In the 90's I got the Rachel 'do made popular by the TV sitcom, Friends, and looked like every one of my girlfriends as we climbed our way up the corporate ladder. OK, I conquered the executive admin pool and made those girls my bitches, but I did so with excellent hair. Then at the end of that decade, on the cusp of '00, I fell in love. Falling in love wasn't anything new, it was deciding that he was marriage material that was new. New and stupid, I would realize later, but this new phase ushered in a new hairdo. I grew it long and decided it was super romantic to have hair blowing around my head like a maniac octopus, encouraged by my fiancé's opinion that women looked more attractive with longer tresses.
My hair was long for our wedding and pinned in a sweeping up 'do, crowned by a tiara. It took me over an hour to pull out all the bobby pins in the hotel, my new husband having decided that it was too complex for his manly mind to navigate. Between the shellac of hairspray and the complicated construction of pins and tiara, my hair was a bonified situation. It was also a huge lady boner killer. By the time I had extricated my hair, I was almost too tired to have sex. Almost!
I kept my romantic octopus hair for another year. I remember the next haircut clearly, because I was feeling disillusioned with marriage. It was hard! And the man I had married wasn't who I thought he was, and I wasn't really the girl he thought he had married but I wasn't about to tell him that. My new job required that I worked weekends and holidays which meant more time away from my husband, and a flirtation at the office had my mind turning over ideas that were decidedly against the vows of matrimony. I was a mess, but I held absolute control over one aspect of my life: my hair.
Sitting in the stylist's chair, I was absolutely certain that cutting my hair so that it barely touched my jawline was the best idea ever. I also asked that it be dyed Koolaid red. Not the official name of the color, but that was the effect. My certainty evaporated the second I saw my husband's expression. We had our first major fight complete with yelling, and he slept that night (voluntarily) on the couch. His words, "you look like a stranger," were prophetic. I just didn't know it at the time.
Years passed and the disastrous hairdo grew out. I went back to long and blond and cut off the flirtation. I also got down to the business of birthing babies. Well, one baby, and she was the best thing that happened to us. My hair length was cut to the modest length of my shoulders and the color gradually turned more auburn. My baby grew and we moved out of state, and despite my decent haircut, everything finally fell apart.
Last week I was gazing at my reflection, taking stock of the length of my hair. It was the longest it had ever been, even pre-marriage. It was also red, a strawberry blond-esque color that my stylist custom mixes. I loved the color, and it was the most recent change since I left my now ex-husband. The length though… I realized that I had this same hair during the disintegration of my marriage, the resulting explosion of a custody battle and divorce, the pain, anger and grief that encompassed all of it. Suddenly I hated every inch of it. Like a lodestone around my neck, I wanted it gone. It was no longer me; it had become an awful representation of the terrified, powerless person I was. Dramatic, I know, but the feeling was visceral.
I cut it. Not all of it, because I think I would make an ugly bald woman, but I sat in the chair and encouraged my stylist to cut more off. Inch by inch the length crept up to my chin. I stared in amazement at the mass of hair on the floor. There was my past, swept up in a pile to be thrown in the trash bin. There was a relief and sadness, and I was grateful for both.
I'm not certain if I'm going to keep this cut or for how long. My girlfriend and boyfriends have been generous with their compliments. In fact, just last night two of them were talking about making me wear pigtails and using them to tie me to the bed. "Handlebars," one of them said. I'm learning that there are definite perks to this new 'do. But sometimes I catch my reflection and wonder at the woman gazing back at me. Who is she now? I suppose only time is going to tell.