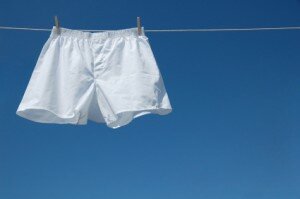 I think it's far past time that we start mentioning our "unmentionables." There's a lot more to masculine cut underwear than "boxers or briefs." (There's a lot more to feminine cut underwear as well, but that's a different column.) During a recent conversation with a dear friend, he mentioned that he never knew that there was underwear that gave so much support that he wouldn't have to shift and adjust himself all day. He had believed- for thirty years- that that was simply part of being born with male anatomy. A conversation with a peer lead to the lending of a jock-strap which then lead to what became an almost life changing experience for my dear friend in question. He immediately ordered several pairs and hasn't looked back.
How much thought do you give your underwear? Do you wear the same things you've been wearing for years? Do you like to change things up and keep several styles on hand? There are several aspects to consider when it comes to your britches. Physical comfort, support; fashion silhouettes, lines and accents. These can certainly come into play each and every time you get dressed.
"Whitey tighties" are a fetish for some, and an unpleasant throwback to adolescence for others. They certainly serve their purpose regardless, offering a "full coverage" silhouette, a functioning fly and enough comfort that they've been a mainstay for most of a century. Jockies (the manufacturer preferred nickname) usually offer a seamless look underneath jeans and slacks and offer a somewhat subtle presentation of your package.
Boxers are a lose fitting option that offer a variety of novelty patter options and are not only favored to wear under clothes but also as sleepwear. They're focused less on support and much more on coverage. Boxer shorts are a casual wear option that is enjoyed by many. You might show lines or experience bunching under slacks with boxer shorts, particularly with briefs, but many refuse to wear anything else.
Boxer Briefs are a combination of a the jockeys and boxers, offering a significantly more coverage than basic briefs and a cut that resembles shorts. This modern amalgamation of the classics is a perfect match for many who feel that boxers are too lose and Jockies too restrictive. They usually appear seamless under jeans and many styles of slacks and enough coverage that one might pick up the newspaper without offending too many neighbors.
Jocks or Jock Straps come in many forms form the utilitarian style used by sportsmen to the fashion forward designs offered in a variety of colors and variations of styles. A jock can offer anything from a dramatic to a subtle presentation of your package, and offers minimal coverage on the back. This is the favorite of several of my friends, as it gives them complete support and seamless wear under almost any type of clothing.
There are more options available in underwear designed for the masculine individual, including the eternally popular option of "going commando" or simply without anything under your outwear.
Some people find the most comfortable option, others simply enjoy the sensations of their clothing directly on their skin. The underwear you chose to wear- or not – can affect your mood, and your actions for the duration of your day. Sometimes, one might enjoy restriction and at others, one might want to be quite free. Perhaps you want just enough support that you only have to shift around ever hour or so, or you want to have to "drop trow" when you go to the restroom instead of just unzipping your fly…
My proposition to you, gentle readers, is to consider what you're wearing under what you're wearing. Think about how it feels both physically and the feeling that it gives you. Check yourself out in a mirror or ask a close friend how you look in nothing but. Take this time to think about a variety of cloth that is offered and find something that you find delightful. Consider trying something new, you might just discover that something different might just change your life, or enhance your enjoyment of your current stand by.
Enjoy yourself.
{This was originally posted September 19, 2011}