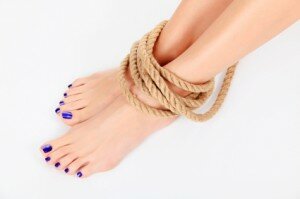 I'm considering a new Dominant these days, and he's a fan of rope bondage. He's converting me into a rope bunny, one body harness at a time. He has several bundles of rope dedicated specifically to use with me, and he'll tell me in advance about the knots he's studying. When we finally meet, we're both anxious for him to try out his newfound knowledge.
I love stripping naked and standing before him, his hands positioning me where he needs me. I breathe the scent of him as he moves, soaking in the feeling of rope against my skin, his voice in my ear. The rope comes alive in his hands, and the knots he makes are beautiful. I now have a better understanding of the attraction to Japanese rope bondage art, kinbaku, or shibari to Westerners. Rope has also helped me see my own curves in an entirely new light.
Sir enjoys taking pictures of me in various predicaments, and I enjoy posing for them. It's the exhibitionist in me that craves the attention as much as the writer within that wants to remember every single second of us being together. However, I rarely want to see the results of our photo sessions. When I look there are always bulges where I had wanted smoothness. And my ass never looks as good as I think it should.
Our last play date ended up with me in a ladder mummy tie which ran the length of my body, my arms and legs knotted snugly against my body. He had the foresight to tie me next to the bed, so he could push me over onto the mattress when he was done. A row of clothespins ran from one side of my breast to the other, nipple clams decorating the center of each nipple. He paused to snap a series of photos while I looked at the camera, feeling bemused and spacy.
As soon as sir returned home, he uploaded the pics to our shared folder. I saw the notification on my computer but didn't open it. I spoke enthusiastically of the experience to my girlfriend and best friend, but I resisted looking at the pictures. Finally, late one night, I took a deep breath and opened the series of photos. Sir and I were texting at the time, and he admonished me for waiting so long. And that's when I confessed that I felt reluctant seeing my naked body.
I've come a long way in healing my self-image, and kink has aided me. Rope is helping too, because as sir pointed out, no one looks smooth in rope. Shibari is more about the process of being tied, the feel of the rope and the modification of the person's silhouette. Regardless of body type, there are bulges and mounds when one is tied with rope. The focus is on how the rope is applied, and the often uncomfortable forms and positions it takes. The art of Japanese bondage is in the journey, not the destination.
I look at my pictures with a different frame of mind now. I focus on the wonderful feelings of being at the center of sir's attention, the willing canvas to his creative sadism. And I see how he lovingly crafted each knot to hold me, molding my flesh into a beautiful something that is solely his creature. Perhaps I haven't reached a common standard of beauty acknowledged by the masses, but that doesn't diminish the fact that I'm beautiful regardless.