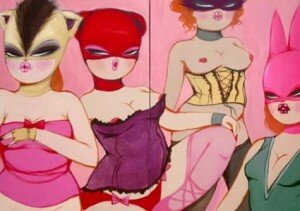 Originally posted May 29, 2011

I first came to know the work of Miss Van on the streets of San Francisco. There, on the corner of Fillmore and Height, was a curvaceous bunny girl painted on the outside of a door. She had large sultry lips and barely-open eyes. She was topless, wearing a bunny hat, teal thigh-high stockings, and a short petal skirt. A sexy painting! Outside! I passed it again and again on the 22-Fillmore bus.
But why is this remarkable? We're constantly inundated with images of sex on billboards. Sex sells, right? But the sex sold on ads and billboards usually isn't sexy or sensual. I never look at a billboard and feel turned on. Yes, it's on the street and it is supposed to be sexy, but really? Those advertisements have transformed sex into something else. Now, street art? That's exciting, and Miss Van has really brought sensuality to the streets.
Unlike many street and graffiti artists who favor spray paint and stencils, Miss Van prefers acrylic paint and brushes, which is why her outdoor works are truly "street paintings." Originally from France, she started painting walls when she was 18. Her early street art pieces depicted chibi girls with cute chubby faces and round breasts. Her painted ladies became more provocative. They were shapelier and the faces created with greater detail. They sometimes wear masks, sometimes clothing and sometimes not. The narrow eyes and large lips of Miss Vans' army of dolls has become part of her signature style. In an interview with StyleJunkies, she said she wants you to "focus on the eyes and the face, which are important weapons of seduction. When you walk in the street, you have to attract the gaze of others."
There are a myriad of ways that sensuality and sexuality are brought into public spaces. One way is through sex work, which has something in common with street art: illegality. Yet, unlike street-based sex work, which often has to hide in alleys or dark corners, sensual street art is constant and visible. That is, until it is painted over or removed. With the presence of work like Miss Vans' on the streets, sensuality is no longer hidden. Her street art forces the viewer, suspecting or not, to think about sex and sensuality. Even if an individual is outraged, the work still made that person think. This is exactly what Miss Van wants. On her website, she writes that she hopes her street girls "convey a provocative image, sometimes a bit erotic. I wish they disturbed and provoked fantasies [sic]. I want them to make the viewer react, no matter the reaction. I would like them to make people forget their daily lives."
Like some other graffiti artists, Miss Van has garnered the attention of galleries and collectors. She shows in top galleries the world over, and has a new show opening at Jonathan Levine Gallery later this month. Her gallery work is more detailed and nuanced than the street paintings. She also accesses a wider range of medium. Yet, these 'fine art' works still capture the sensuality and ferocity of her street girls. On the street or in the gallery, Miss Van maintains her commitment to her girls' power of seduction.