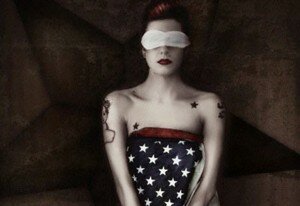 This article was originally posted on April 5, 2011

Her images are haunting, eerie, sensual and provocative. Rich in symbolism, sparse in color selection, though not in hue, the figurative works by Aunie Kahn, a world-recognized self-taught American artist, reflects a childhood marred by abuse and pain. Kahn sought refuge through creativity and the arts, to facilitate the healing process, but it wasn't until 2005 that her private struggles became public fodder for an art-appreciating crowd. Since then, she has been featured in many publications and galleries including the Sexy Art Gallery at the Erotic Museum in Amsterdam. In April, Kahn's work will take center stage at two shows in the United States, with more planned this summer.
"What is behind us is never really gone, if we turn around it is always there even through denial." – Kahn has written. There's a universal message in her stories and hybrid art forms that meld photography, painting and collage. She makes use of her own likeness in each of her creations, and weaves in controversial subjects and emotional conflict that suggest both sexual wounding and pain, but also strength and triumph. Complex and nuanced visual stories that convey emotionality in raw reds, strong lines, gray shadows and feminine, erotic curves.
Kahn speaks of these experiences as, "background noise from the past," that challenge us to grow and evolve after our brushes with the edge of human darkness. "As we move forward in life we can find ourselves haunted by our pasts; the things we did, the choice we made, how the cards fell into place that we felt we had no control over, and the people, places and things that have come and gone."
Her art continues to evolve, with the earlier works focusing most specifically in her abusive past. She calls this first series, Human Error, a visual journey of self-therapy. "I find that standing tall, looking at the things that have become my past, good or bad are a reflection of who I am today."
Another series deals with the feelings of choice and conviction, in which she expresses her feelings about religion, politics and death. 'Common Silence' evokes her love for 'vintage and propaganda type imagery.' In 'Our Forbidden Solitude' Kahn introduces medical symbolism, exposed bones and living creatures to explore the boundaries of life and death, and her self-declared 'Intimate Perception' pieces deal with letting go and being at the mercy of outside forces.
In addition to her artwork and exhibitions, Kahn creates tarot cards, and is an author, designer, musician and vocalist living in Illinois with her, "four German Shepherds and two black cats in her secret closet." Her work is represented by galleries in the United States and Amsterdam, and she's the recipient of many awards and juried exhibition honors stateside and in Europe.