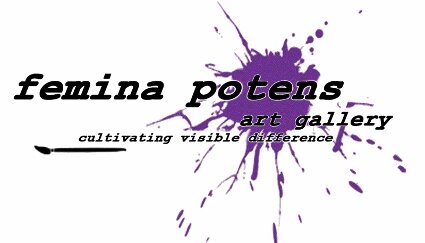 You might not think of yourself as an art gallery-going type, but sex-positive porn star Madison Young wants to change that. Then again, her San Francisco community-based space, Femina Potens, is not your typical art gallery.
Located in the Castro District, Femina Potens showcases the work of women and transgender artists. The art world still often ignores women, gender variant and trans-identified artists, but this is not the case at Femina Potens. With its multidisciplinary focus, the gallery has featured theater, performance art, painting, prints, sculpture and more. Young says that the gallery chooses what art to show depending on the year: "Every year we sit down and think about where our heaviest focus was in the previous year, what's happening currently, politically, socially, in our communities, in San Francisco, topics that we'd like for our artist's to explore. Also, we look at what artists are out there and what themes seem to be really prevalent within our community."
Along with showing amazing and cutting-edge artwork, the gallery is a much needed community space with affordable programs—including readings, panels, and workshops—for queers, sex workers, kinky people of all orientations, trans-folk, and the curious. Recent workshops have included play piercing, pin-up photography, and a lesson on how to be a sex-positive sex worker taught by the legendary Carol Queen.
A non-profit space, Femina Potens is volunteer-run and hosts sexy benefits to keep its doors open. Among these benefits is "Art of Restraint," a quarterly benefit that is now in its second year. Attendees witness rope bondage performances in an intimate setting. Young commented that the event allows rope artists to explore "how rope can be used as an [art] material. Some of the works end up being more like installations that happen through the entire event, and some of them are more theatrical and definitely have a narrative. Some of the pieces are more atmospheric and involve a lot more audience participation. It's really great because it gives rope bondage artists a whole new way to explore rope and a new freedom to express themselves with rope, rather than just the traditional tying someone up." Along with being able to witness some of the world's top rope artists and models, guests are waited on by seductively dressed (and sometimes under/undressed) service submissives. Each submissive has a menu of services offered, which may include serving champagne and strawberries, receiving/giving spankings, nipple torture, and offering massage.
This article was originally posted August 28, 2010