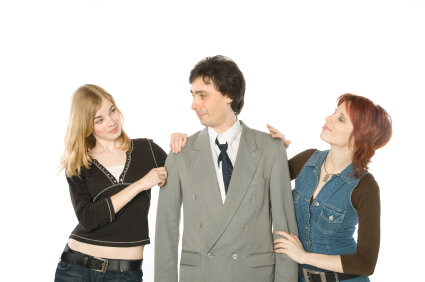 As I wrote in a My Open Relationship Rules, I have no rules for my relationship partners, except one: Use a condom.
Everything else is fine with me and/or negotiable.
This is apparently an unusual situation: most people in non-monogamous relationships have rules about who, when, where, what, how, and/or how often they can fuck/date/love other people, and how much information about it to disclose to their partners. Hell, my own partner has a number of those rules for me. But I don't. So I often get asked:
How can I/Why do I not need rules about any of these things?
And the only answer I can come up with is: Because all such rules are essentially attempts to curtail the green-eyed monster, jealousy. And I don't feel jealousy.
I never have. What I do feel when I see my partner with someone else (particularly someone attractive) is arousal, compersion. I can also feel pride or excitement that he's scoring. I could feel annoyance if this was happening while he was neglecting something else important. But jealousy? I don't know what that feels like.
People have said I haven't loved. (A female friend once actually told me I didn't love my husband, and that's why I could behave the way I do. I thought that was quite rude.) But I have loved. Twice as an adolescent (counts as once?) and three times as an adult. And I've never felt jealousy once.
Evolutionarily, jealousy is an adaptive reaction to the issue of survival: securing paternity (for men) and provision of resources for self and offspring (for women). From that aspect, I'm an evolutionary failure, I suppose – I'd willingly let my partner spend the entire kill on other women and leave me and my children to starve to death. (Except that I don't have any children and these days I don't need a man to feed me.)
But on a more proximal, individual level, jealousy arises out of insecurity, out of fear. Fear that he's going to leave me, fear that I'm not good enough, or young enough, or smart enough, or beautiful enough, or loved enough…
And I don't have any of these fears.
I know I'm not the most beautiful, or smartest, or whatever '-est' person in the world, but I also know, deep down inside, that I'm a pretty damn good, valuable, love-worthy human being. There is nothing my partner can do to make me feel otherwise. Because my partner is not the source of my self-esteem; I am the source of my self-esteem. And that self-esteem is stable and quite impervious to life circumstances. What my partner does can make me sad or happy for a period of time, disappointed, even hurt, but it cannot make me feel better or worse about myself.
I know that he loves me. He's crazy about me. I know that, I see that, I feel that, I hear that. If I didn't feel like he loved me, I wouldn't be in a relationship with him. Fucking other people doesn't make me love him any less. I don't see why being able to openly fuck/date/love other women would be a reason for him to stop loving me. Or leave me.
And if he does leave me, that's OK. Because leaving me means he doesn't want to be with me anymore. And that means he's not the right partner for me anymore – how could I want to be with someone who doesn't want to be with me?! (see item #38 of my Relationship Checklist).
Not wanting to be with someone anymore happens to people for all sorts of reason, all the time. It might happen to him whether or not I let him fuck/date/love other people. Most romantic relationships end after a while for one reason or another. Setting up all sorts of rules to control his sexual/romantic behavior is not going to prevent that from happening. If anything, having the freedom to fulfill his sexual/romantic desires openly should diffuse any need to leave me so he can fulfill those desires elsewhere.
Don't get me wrong. I'm not saying I'd be happy if he left me. I wouldn't be. I'm sure I would be sad for some time. I might cry. It might take a while to adjust to being single. But it won't be the end of the world. I will still be the good, valuable, love-worthy human being that I was before. I will still be loved by many friends, lovers, and, most importantly, myself. Life will go on, and I will be fine.
An Alien
I realize this is unusual. I've never really met anyone like me in this respect. My husband calls me an alien. And I do sometimes feel like an alien.
I often fail to anticipate or grasp people's feelings of jealousy. It's difficult to empathize with someone when you don't know what their feelings feel like. I try to understand on an intellectual level, but it's not the same.
Still, I shouldn't be complaining. Life without jealousy, insecurity, and fear has so far been a pretty good life. I would never, not in a million years, swap my brain for one that is capable of experiencing jealousy.
And who knows, maybe one day I will feel it. I hope not, but it's not impossible…
~~~~~~~~~~~~~~~~~~~~~~~~~~~~~~~~~~~~~~~~~~~~~~~~~~~~~~~~~~~~~~~~~~~~~~
This article was first published on Pervertically Virtuous