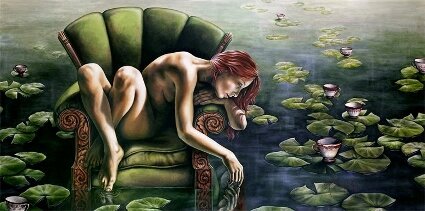 "Art can be a life shaking experience, or an intimate rendezvous. For me it is both." – Autumn Skye Morrison
Autumn Skye Morrison is a Canadian painter whose nude art reflects a rare combination; female nudes swathed in broad strokes of color, some paintings set against a backdrop of stark gray, hips, breasts, and bellies, thighs and buttocks, hair flowing in abandoned grace, eyes gazing beyond, beckoning the viewer to admire unabashedly without the lens of salaciousness. Not that being aroused by art is a bad thing, simply that Skye's visions appeal to our emotional centers as much as they tug at our primal urges.
"Through words, actions, thoughts, or artwork, I aim to share honesty and awakening." Skye begins with just the "seeds of ideas," before using her intuition, following where the paintings take her. "I am constantly surprised and inspired by what is translated by my imagination and hands." That often includes symbols in the images that invite reflection and contemplation about our relationships to nature, time and space.
Born in Nova Scotia, her family gradually made their way West across Canada. Her father settled in the small town of Field in the heart of the Rocky Mountains, as well as Columbia Lake. Her mother and stepfather built their home "off the grid" between Powell River and Lund on the Sunshine coast.
Skye spent her youth between the majesty of the mountains and the serenity of the ocean and lush forest. There, she developed an appreciation for natural beauty. Now, as an artist and environmentalist, she takes stewardship of her domain very seriously. Indeed, you'll sometimes find surprising juxtapositions in her work – jester's hats, feathers, swirls, owls, shells and other natural or playful artifacts – merging with the translucent colors of her paintings. There's a reason for this.
"I believe that we have chosen the most challenging and exciting time to be alive on this planet. Humanity is being called to rise, and it is now an urgent matter. Every aspect of our lives is being shaken, and we are becoming aware of our careless impacts on the Earth and each other," Skye explains.
Not all her images are bold, crystalline sensations. Those that are mostly black and white suggest a kind of somberness that still manages with a swash of color to tickle our sense of joy, hope and curiosity. "In general, pain sells easier than ecstasy, and fear is more contagious than joy. Throughout history, for most passionately creative people, it was vital that they tell the story of the collective struggle. People found beauty in the darkness around them by looking through the gaze of an artist."
The colors, shapes and images in her work in the slideshow below reflect where she has traveled and found inspiration: North America, Mexico, South East Asia, and Hawaii. Spellbound by cultures, colors and the common spark – she calls it divinity, but one can use non-spiritual language too, such as humanity – her art is at once sensual and playful, innocent and beckoning, suggestive and pure.
"We are at the threshold of boundless possibilities. I want to shine a light, to connect to those around me through honesty and awakening, to celebrate this fantastic adventure." Not surprisingly, that authenticity shines through to her growing fan base, even though the trappings of success do not motivate her. "Maybe I am making it harder for myself by not capitalizing on the morbidity of popular media. But then, maybe we are all ready for something different." Indeed. Art that is truly sublime in times that sometimes seem otherwise.
To learn more about the artist, including private commissions, visit Autumn Skye Morrison at her website
Tinamarie Bernard is a regular contributor to Fearlesspress.com. You can follow her on twitter, @ModernLoveMuse and visit her at her blog, www.tinamariebernard.com.
Originally posted March 5, 2011