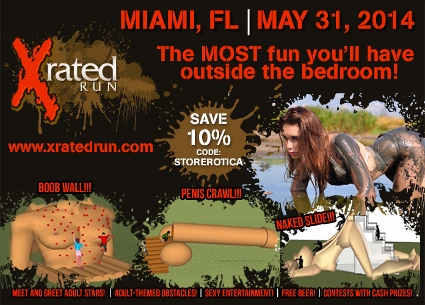 COCONUT CREEK, FL The X Run is now a sexier and streamlined event, formerly the X-Rated Run, the re-branded mud run will be hosted by Playboy TV's leading sexologist and bestselling author Dr. Jess O'Reilly. The X Run also welcomes celebrity guest Ash Armand, star of Showtime hit series Gigolos. Fans will have the opportunity to meet Ash and Dr. Jess for signed autographs, photos, and more when they register for the event. The X Run will be held on Saturday, May 31, at the Historic Virginia Key Beach Park in Miami, FL. For more information about the event, including sponsorship opportunities and interview requests, contact Kelly at [email protected] or  (954) 461-4211 or visit  www.thexrun.com.  For more information on Ash, please visit www.AshArmand.com.
"Fitness and healthy relationships go hand-in-hand, so I'm very excited to be working with the The X Run in Miami," said Playboy TV sexologist Dr. Jess O'Reilly. "Not only are they supportive sex-positive non-profit groups, but they're making exercise sexy and this will only help to further the message that working out is good for your overall health — and your sex life!"
The X Run is made possible through sponsor support and thanks their partners Bang Bros, Juicy Ads, StorErotica, Swing Lifestyle and Wasteland. To see complete list of sponsors, please visit www.thexrun.com.
"SwingLifestyle.com & SLS Parties are proud to announce our new partnership with X-Rated Run Miami 2014," said Emily Hartstone, event coordinator for SLS Parties. "We are very impressed with Kelly's idea to organize such a spectacular event to promote sexual positivity and healthy living. We know between Kelly's ability to plan such an innovative run, combined with the millions of followers of SLS events, together we will pull off an EXPLOSIVE and EPIC EVENT!!!"
The event was created to promote sexual positivity and healthy living, encouraging both novice and experienced runners to take part in this epic mud run. The X Run will be raising funds for Clitoraid.org – a nonprofit association focused on offering free medical services for the physical restoration and rehabilitation for FGM victims.
The First Annual X Run is an un-timed, adult-themed, 5k (3.1 mile) obstacle course and mud run for men and women of all fitness levels. The event will take place on Saturday, May 31, 2014 at the Historic Virginia Key Beach Park (Address: 4020 Virginia Beach Drive, Miami, FL 33149).
The X Run will accommodate 4800 registrants and include numerous adult themed exhibitors. Competitors can enter on their own, as a pair, or as a team. Registrants must be 21 to participate.
The new location promises to deliver a more exciting and fun experience for all – located off the Rickenbacker Causeway, The Historic Virginia Key Beach Park is just minutes away from Miami's downtown financial centers, top tourist destinations, sport facilities, retail, dining, and renowned educational institutions.
The X Run promises to be a day of racy amusement and gritty determination as competitors tackle 14 wild and outrageous obstacles like the Dominatrix Dungeon and the Blue Balls Dash. The Post-Race party will keep the action going with adult starlets, live music, food vendors, beer stands, a mud wrestling pit, a Mr. and Ms. X Run Competition and much more! While there will be no sex or nudity on the run, there will be euphoric, non-stop action, plenty of physical challenges and lots and lots of mud!
Registrants will receive a free X Run T-shirt, one free beer ticket, a condom wrapper-shaped medal and entry into the Post-Run Party. A portion of the proceeds will be donated to sex-positive organizations, including  www.clitoraid.org, which campaigns against female genital mutilation (FGM).
THE INAUGURAL X RUN IN FLORIDA PROMISES TO BE A FILTHY GOOD TIME!
For further information about the X Run, including sponsorship opportunities and interview requests, contact Kelly at [email protected] or  (954) 461-4211 or visit www.thexrun.com.
ABOUT THE X RUN:

The X Run is organized by Kelly Perez, owner of  www.sensualsteals.com. She was inspired to create X-rated mud runs in her own efforts to lose weight. Her ex-marine cousin was putting her through military-style drills in preparation for her first mud run. As she crawled through the grass commando-style, Kelly reached her limit and yelled at him, "I sell sex toys for a living, I don't do this type of s#!t!" He told her to stop complaining and imagine she was crawling through a penis tunnel. A great idea was born.