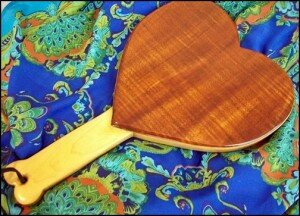 Many times when discussing toys, the conversation revolves around the experience of the one receiving instead of the one giving the punishment. I would like to share my experiences in searching for the right toy. When shopping for a paddle to use on my partner, I explored many materials; rubber, leather, acrylic, and wood. I found wood to be the perfect material. It is highly versatile and can be created in many shapes. There are a multitude of stains, types of wood, and style of grain patterns. When shopping for my first wooden paddle, I wanted a place that really took pride in their work and offered beautiful items. I wanted a company that appreciated the wood they were using.
I was lucky enough to enter a contest and win my choice of a custom made paddle from a store based out of Hawaii called Maui Kink. I thought about the shape I desired for my partner's first paddle, and wanted something slightly feminine, and whimsical. I received excellent customer service from the start as they helped me bring my vision of a heart-shaped paddle to life. I was offered a choice of beautiful woods like Mango, Kamani, Bloodwood, Tulip Wood, Koa, Bamboo, and Lychee. I chose Koa hardwood with a core of lighter wood connecting to the handle. Maui Kink even sent me sketches of the paddle before it was made, further fueling my anticipation of receiving it. We corresponded on what sensation I wished to create with my paddle and I chose thud over sting.
Construction was quick and my paddle was shipped to my door in no time at all. Opening the box I found a gorgeous new toy, lacquered and shiny. The wood is rich with a distinct grain and a warm, honey glow. This was the starting point of my love affair with Maui Kink. Known for their beautiful rope in a rainbow of dyed colors, I have gone on to purchase eggplant purple jute rope and a matching acrylic cane with a pretty carved wooden handle. But I return to drool over their paddles and count my pennies until I can afford the next purchase.
Offerings of paddles by Maui Kink include "Wicked Bitches" which are a cross between paddle and a strap with a thick rubber tail attached to a long piece of hard wood. The "Pele Stick" however, is next on my wish list. A long, stingy piece of wood traditionally made of Koa that promises to leave deep bruising to the lucky recipient. For those looking for environmentally renewable pieces, the Bamboo Paddle is affordable and eco-friendly giving a good balance between sting, thud, and beautiful natural wood.
Maui Kink's line of paddles begin as low as $25 and go as high as $80 or more for custom pieces. From time to time they offer special pieces at discounted prices and even have work for purchase on the crafty site Etsy. I cannot recommend them enough for the paddler who enjoys working with quality and style when it comes to their tools. They are waiting for your visit at MauiKink.com. Tell them Lucy Lemonade sent you*.
*I do not receive any commission, this is just an honest glowing review.