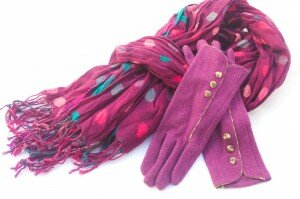 As the bright greens of summer fade into the golden hues of fall, the way most of us dress will change with the seasons. While some of us live in climates that don't vary much as the world tilts on its axis, many of us see more drastic changes in temperature. The transitional periods can make for some interesting fashion choices certainly, and myriad opportunities  for hedonism.
There is great wisdom in the concept of dressing in layers. Here in the high desert the temperature can easily drop twenty to thirty degrees or more when the sun sets, and for some that means tank tops during the days and bundling into sweaters at night. While a tee shirt and hoodie certainly offers some utilitarian flexibility, the opportunity to bring color, texture and style presents itself particularly well in autumn.
Regardless of your gender presentation, accessories are a great place to start. Scarves come in a great variety. From fluffy to silky, garish to subtle, and everything in between. They can be a way to tie an outfit together during the day, and then folded over to help keep you warm in the evening. An advantage of using scarves to accessorize during the fall is the ability to use them in a multitude of different ways. Most scarves will fit easily in a bag or you can tie it onto a strap for extra flair. You can have them loosely around your shoulders during the day, or even tied around your waist as a belt. If it's a particularly warm day, scarves don't add a lot of extra bulk to carry about, and can make the difference between a toasty and comfortable evening out, and being a bit too chilled to enjoy yourself. For the first several weeks of autumn I recommend loose knits and silks. As we get closer to winter, tighter knits, velvets and heavier materials offer more protection from the chill.
Gloves are something that I enjoy wearing year round, but autumn is an appropriate and fashionable time to add them into your wardrobe. With Victorian influence weighing heavily on todays designers, you can find gloves in an array of styles, materials and functionality. For those who want the extra warmth and protection of gloves without the investment of "tech gloves" that work with touch-screen devices, fingerless gloves are an excellent option. Even loose knits or materials such as lace or fishnet can add both warmth and aesthetic to your wardrobe. For those of us sporting a more goth and/or punk look, you can find fingerless knit gloves in stripes or solids in practically every color.
Most people don't give much thought to their socks, but autumn is a perfect time to start giving them mind. Particularly during the transitional times, socks can be all it takes to make a lighter pair of pants perfect for cooler evenings or blistery days. Tall socks can be the extra layer that you need on your walk home, and are also an excellent way to bring a touch of color and texture to your day. Trouser socks, knee socks and over the knee socks are becoming easier and easier to find, and come in every imaginable color, pattern, print and texture. From basic blacks and neutrals to rainbow argyle, you can keep your legs toasty with them taut or scrunch them down if you have a particularly sunny day. The sister to socks are arm warmers, which come in everything from glove styles to open tubes of snuggly softness. A pair in a neutral color can fit just about any outfit, or something a bit more vibrant can add some whimsy.
Amid all these options, take the time to think about what you'll enjoy the most. Are you visually drawn to greens and golds? Does wool give you a sense of warmth or just the desire to scratch? Do soft woven acrylics give your skin something to delight over or do you prefer the feel of velvet or silk? Does fringe on a scarf bother you or does it give your fingers something to play with?Don't buy something practical that doesn't please your senses; you'll practically never wear it.
Earth tones are always popular later in the year, and definitely something to keep in mind. Think earth tones are all about browns? Think again. Golds, reds, and shades of green or orange can add vibrancy or subtly to your wardrobe. You don't have to stick to traditional natural colors either. Zombies, robots and adorable chibi characters are not only popular but can be quite a lot of fun.
Feast your senses this fall, and don't forget to delight in the sensations your autumn accessories can bring.
Enjoy yourself.