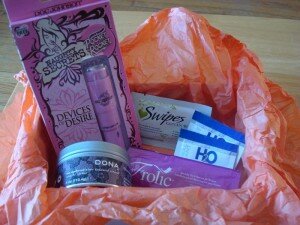 When SpicySubscriptions.com contacted me about doing a review of their product, I was definitely intrigued. Getting a box of sexy goodies in the mail? Sounds like fun! Looking at their website, which is bright and perky, it was easy to understand how the product works. They have a very thorough FAQ page and a loyalty/word of mouth program which allows subscribers to earn points & free fun stuff.
There are two types of subscriptions you can order, the Premium Spice Box ($19.99 a month) or the Deluxe Spice Box ($34.99 a month) depending on the number of items and the quality of items included in the box. I received the Premium Spice Box to review.
I get a lot of sexy stuff in the mail, between being a Pro-Domme and receiving toys, books, etc to review. But I was still excited when my Spice Subscription box was delivered, a grab-bag (or grab-box really) of surprise sexiness. It was discreet and looked like any other package being delivered.
Ripping open the discreet packaging I was left with a sturdy white box with metallic corners. I have a bit of a fetish for 'containers' so I was immediately pleased with the sophisticated look and felt like even when the sexy good inside were all used up, I could still make use of the products packaging. Double whammy! In my last email exchange with SpicySubscriptions.com they said a new box was being put together, so I look forward to checking that out.
Now time to open the box! Since it was sent in October, there was a holiday theme with some little arcade type Halloween plastic rings & that sort of thing. Usually I'm a big fan of 'themes' being worked into product and marketing, but the items included were pretty useless to me as an adult. Maybe if I had kids I'd give the items to them, but somehow that feels a bit squicky to me, considering they came in the same box as a vibrator. But I appreciate what Spicy Subscriptions were trying to do, so thumbs up for effort.
All the adult items come wrapped in tissue paper. In my box I received; 3 trial packets of lubricant, an eco-friendly sex-toy cleaning wipe, a massage candle and a pink pocket rocket. One small thing is that I wish a AA battery had been in the box (more useful than the Halloween toys after all) so that I could immediately use the pocket rocket. But once I found a battery, I could give the little vibrator a go. Personally I'm a Hitachi lover, so even at the highest level it still didn't quite have the get up and go for me. But it's a good little vibe, and for a woman or couple who is just starting out with their sexual adventures it would make a good toy for sexy playtime. The candle is full size, which is nice, although at the first sniff I wondered if there was any lavender in it. I'm allergic to lavender so if that was the case, I wouldn't be able to enjoy the candle. But after close inspection…no lavender! Sexy massage, here I come!
My over-all impression is that SpicySubscriptions.com would work best for those that are new to their own sexual exploration or trying to re-inspire a couples sex life. Receiving a box of sexiness on a regular basis is a great way of encouraging sensual experiences, whether alone or together as a couple. It would make a great gift for a bachelorette or even a new mother, to remember that 'adult time' is important too. If you're a couple looking to 'spice' up your sex life then this can be a great reminder to try a variety of sexy goodies and keep the spark on fire. When you find a product that you like, you can order the full size directly.
You can use the coupon code KINKACADEMY to receive a 15% discount on a 4 month subscription or the 1st box free + 10% off if you go with the annual subscription.