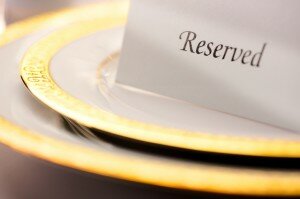 While the holidays may be drawing to a close, the reasons to throw a dinner party are endless. Moving away from elves and holly, we can draw on darker tones. In my last article I described ways to begin planning a dinner party with a more adult theme. Today I am expanding on that idea!
Now that you have spent time considering a theme for your kinky dinner party, it is time to plan the actual dinner and entertainment for the night. The food itself does not have to comply fully with the theme though it is nice to tie in some element. Let's say that your theme revolves around rope. An easy and elegant way to tie in that theme would be to wrap ribbons made of carrot around bunches of grilled asparagus. While the effect is not overtly present, it is a small nod toward the theme. Another example would be a small length of twine knotted around the silverware instead of napkin rings. Let yourself get creative with the menu!
Any good host or hostess knows the key to a good party is good conversation. Offering alcohol is one option, but playing the good host should include ways to get your guests chatting about more than just drinks. Icebreakers can be the perfect way to get conversation rolling. I know the word "icebreakers" alone can make some individuals cringe. The thought of "employee bonding" sessions has sullied the name of icebreakers. It can be difficult to get a room full of people to play a board game, or even settle on the same topic for conversation. Icebreakers force a sort of flow to the conversation and can be excellent for smaller gatherings.
Most icebreakers you will find tend to be rather vanilla and don't add to the atmosphere at a kinky gathering. And the other half of them rely too much on "shocking" sexual questions. The key to keeping the night more elegant and building tension is to focus more on questions that make the individual think, with only a touch of sexual energy on the side. One of my favorite questions is "What was the last thing you did, for the first time?" The question is a tricky because we tend to focus on the words "first time" and revert to tales of lost virginity and high school romance. But the question can be as vanilla as any other question. Using an icebreaker like this can get individuals to talk about a range of experiences and gives good fuel for conversation.
If you take away anything from my tips on throwing an elegant and kinky dinner party it is that the number one key to success is imagination. Take time to really plan out your event and steer it in the direction that you want. While strange to imply, having some structure can create some of the best party experiences. Feel free to share some of your party successes in the comments, I love gathering new ideas for ways to wow my guests!