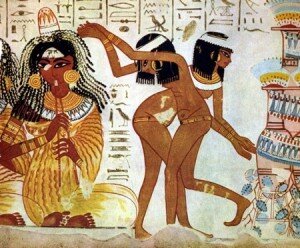 See a shirtless guy running around a beach, pool, mowing the lawn or simply relaxing on a hot day and they won't even get a second glance.  But imagine you saw a topless woman doing these same activities…you would probably feel some type of offense, or you may sexualize her body or even arrest her, if you are a law enforcement agent.  This, my friends, is a double standard.
Women's breasts are so objectified in our culture that women are forced to wear a top at all times. We see breasts as sexual objects that are somehow different from the male chest. Nipples are somehow different if they belong to a female-bodied person. Nipples are nipples, one would think (as that is the only area that is required to be completely covered) but the that's not how the story goes.  That's why photographer's can make millions and cause an international scandal selling photographs of Kate Middleton without a top on while her husband Prince William doesn't even get noticed for being shirtless.
Historically and cross-culturally, we don't see this same standard. Women in Europe can go topless at pools and beaches without a fuss and in many African cultures (one example being the Zulu's) female breasts can be exposed any time in completely normal day-to-day life. And throughout history, uncovered breasts were normal and not seen as shameful. Just look at this painting of topless women hula dancing in 1816 or these ancient Egyptian female entertainers. It's only in recent years that we have seen breasts become a taboo in society. And the effects aren't only social ones…they can translate to real horrors as well. Just look at the breast ironing happening in Cameroon. Girl's breasts are being ironed down to keep them looking young as to not bring un-welcomed sexual attention from men to their breasts. How can we look at something like this and not see the outrage? How can we not understand the effects of the breast taboo and not demand that we make a change? How can we let this happen?
It's because we aren't willing to face the facts. It's hard to look and the mirror and realize that we live in a sexist world and culture. That we are responsible for tragedies like this happening and every time we make a fuss about a nip-slip or topless photograph we are only making it that much worse.  We have to be willing to understand the effects of what seems to be harmless and understand that it really goes beyond that. It really creates a world of shame, hostility and repression. We aren't allowing women the same basic equality that men have and it's not only unjust but harmful.
Giving women the right to be topless is what's fair. It's the first necessary step to ending this extreme obsession and sexualization of breasts. We have to make and allow breasts to be a normal body part just like an arm or a leg. If we stop making them forbidden then we stop having the simultaneous stigma and obsession.  It then frees women to take of their tops as they please just like men can and stops the use women as sex objects. It also creates a more gender fluid world, since we are minimizing the differences between men and women. We see them as people; we eliminate the ' my-face-is-up- here' comments because men won't be objectifying women's breasts. Women will be people instead of objects. Voices instead of cleavage.  That's the real reason we should make a change….to give women back their voices.