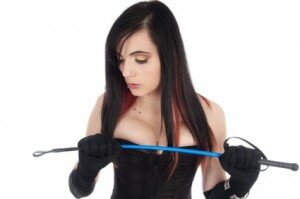 This article was originally posted November 17, 2010

I've attended fetish and BDSM events all over the world, and one of my favorite things to do at these events is check out all the style eye candy. The best by far to scope hot chicks in fetish gear are the events focused on Professional Domination, mostly because the woman who work in kink have to fill their wardrobes with latex, leather and more in order to do sessions, videos, etc. So they have excellent excuses, and usually a larger budget than most, to shop all the fabulous vendors and adorn themselves well.
Being at DomCon Atlanta reminded me of how much fun it is to see everyone all dressed up. There are so many different styles of fetish dressing, and it's possible to learn a lot about a Dominant Woman by the way she presents herself.
Of course there is the "Classic Domme" who is usually in all black, probably leather but can also be latex, satin, or lace. Rather severe looking and usually sporting a slightly disdainful look, this presentation is intimidating and powerful.
Another popular approach is the "Elegant Lady" perhaps in a ball gown or a corset and bustle. Drawing on Victorian inspiration is a must and having matching accessories should be a key part of the over-all look.
The "Fetishist Extraordinaire" always has full latex or head to toe leather on along with awe inspiring high heels that most people would be afraid to stand in, let alone walk around in.
Pigtails and plaid can be dominant too with a "Bratty Girl", cheerleader outfits are a particular favorite among this kind of Dome. This is the snarky, sarcastic and just plain mean girl that we all loved to hate from high-school.
A "Flowing Goddess" would wear swirling skirts and dresses in sensual fabrics, with bare feet for comfort.
Of course there are many other options as well, and everyone woman should find her own style to suit the way she plays.