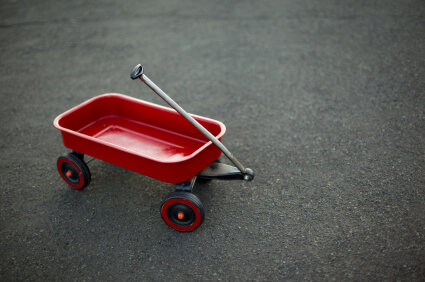 This article is written by, and for adults engaging in consensual age-play
By Daddy Vinnie
You've finally realized it: you are a Daddy! You may be new to or have a lot of experience in the BDSM community. Either way, somewhere inside the feelings of Daddyhood have bubbled to the surface. So now how do you find a Little to complement your inner Daddy?
First, be yourself. Daddies come in all shapes, sizes, ages, genders, and experience levels. A Daddy is as much a mindset as it is a role.  In DD/lg role play, Daddy is the caregiver. Daddies nurture, guide, mentor, and provide unqualified support for their Littles. They are their Littles' number one fan and cherish them beyond all else. You cannot fake this kind of behavior. If you possess these qualities – and most feeling people do – you have Daddy-ness inside of you.
Second, consider wearing a nice suit and tie. Everybody has his own style, even Daddies. Some wear the customary leather of the BDSM community. Others were jeans and t-shirts. But there is something impeccable and impressive about a Daddy in a suit and tie. Most Littles love the look of Daddy all dressed up. In my experience, wearing a suit and tie helps to bring my little girl's Little side to the surface. In fact, I've taken to wearing pink ties that my Lolita just melts over.
Third, when meeting a potential Little for the first time, do so in a group setting. BDSM socials allow the opportunity to chat with others who are into BDSM and meet and make new friends. The group setting also mitigates the "creeper" issue.  An older Daddy trying to meet a Little privately that he just met online sets off the "creeper" alarm in most circles. The BDSM community is small and looks after its own. It's difficult to shake a "creeper" reputation once gained.
In addition to avoiding the "creeper" vibe, try to avoid being a "Desperate Daddy." You know the type, fresh out of a relationship, desperately wanting to make a connection with someone, such as an impressionable, vulnerable young woman who "needs" you. The BDSM community has many desperate Daddies and Littles who engage in serialized DD/lg relationships, mostly online. Desperate Daddies and Littles hook up and break up with the clockwork regularity of Jr. High Schoolers. If you are newly single, take a bit of time to renew your sense of self before searching for a Little.
Finally, go slow. The special bond between Daddy and Little goes far beyond role play. Take some time to get to know each other so you are sure that this Little is right for you. Revel in the particular activities that define your interests in DD/lg, whether that's coloring, shopping for bows, playing at the park, going out for coffee and dinner, taking in community munches and play parties, or taking walks and holding hands. This is important time spent to know each other on a level separate from your DD/lg interests.
With a measure of common sense and high regard for the community and others, I'm sure you will find a Little whom you can cherish from the tips of her toes to the ends of her pigtails.   Good luck!
By Lolita Hayes
You're finally ready to get out in your local BDSM community, meet other Littles, and (oh my goodness) maybe even find a caregiver! Well, let's talk about some important things you need to think about first. How can you get out into the local community safely?
If at all possible, go with someone you already know. Make sure it's a public event at a public venue and that someone knows where you are. You can never be too safe. Before you attend your first event, send a message to a group leader (or three) and introduce yourself, something like, "Hi there, I'm ____ and I'm a new Little in the community. I'm a bit nervous about going to events for the first time and I was wondering if you have any advice or perhaps you could help introduce me around?" I can promise you that most community leaders are going to be very friendly and welcome you with open arms.
I was nervous for my first event, too. I didn't have anyone to go with, and I was worried about what I might experience. I sent an email to a group leader and explained that I was new. She met me at the event, helped me get comfortable, and introduced me around! She even gave me some polite advice on who was or wasn't safe to be around (there is always a risk of bumping into someone with a "creep factor" and it's nice to have someone looking out for you). In the end, I had a wonderful experience, and my initial concerns were set at ease.
If someone wants to meet you for a date, the same common sense rules for "vanilla" dating apply. Don't meet someone privately. Go somewhere for coffee. Always let a friend know where you will be. It's helpful to have an "out" too, a friend who can call you a half-hour in to see if you need to make an exit. DON'T let anyone pressure you into anything. Until you've established a serious relationship, no one owns you. You are in control. If someone demands you submit on a first date, oh my, RUN! That behavior is completely inappropriate. Be honest, be clear, and be safe.
Don't feel pressured into letting your Little side out if you're nervous. Just do what is most comfortable for you. If that means being a bit guarded, that's okay. However, if you're a bubbly outgoing Little who wants to meet everyone, that's okay too. Make sure to be polite though. It's not okay to run up and start hugging anyone and everyone. Community protocol dictates that it's ALWAYS best to ASK first before you touch anyone, period. Everyone has a right to say no. Respect is important at all times.
What to expect at some of the more generic events:
Munches: Social gatherings at restaurant type places where kinky people get together to eat, drink, and socialize.
Discussion Groups: People gather to discuss specific topics. Sometimes groups have pre-written questions like, "What are some struggles you face as a slave in your vanilla life?"
Demo/Education Classes: Venues where community experts demonstrate a specific topic like flogging or electric play.
These are perfect community events to get started at. Soon, you'll make new friends and attend all sorts of events, even play parties!
My advice on where to start looking for community events:
Look in your local city (or the nearest larger city), pick some groups that appeal to you, and start sending some friendly messages. Much like any social network, Fetlife is a perfect place to meet others (Kinksters) in your area!
Just make sure you remember to be safe, ask questions, by respectful, meet new people, and have fun!
xoxo,
Lolita
[Editors Note: We also have quite a bit of age-play information on our sister site KinkAcademy.com]