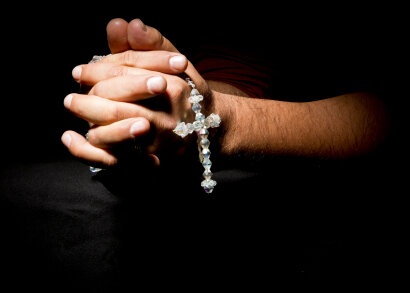 I resisted the Sacrament of Penance (confession) for most of my Catholic life, mainly because I didn't understand it. If my sins had fallen into the category of "I took the Lord's name in vain" I might not have fought against it so hard. But the mere idea of telling a fellow human being that I had cheated on a former boyfriend with a married man made me want to vomit. I was unable to forgive myself, so I couldn't imagine how articulating the truth to another person, let alone a priest, would help or how he could intercede for me with God. Nope, there wasn't going to be any confession for this girl. I'd just try to live with the guilt while silently beating myself up about all the mistakes I had made, thank you very much.
For those of you as confused about confession as I was, the Sacrament of Penance stems from Christ's appearance to the apostles after his resurrection. Breathing on them, he said: "Receive the Holy Spirit. For those whose sins you forgive, they are forgiven; for those whose sins you retain, they are retained" (John 20:22-23). Catholics believe that the sacrament is a sign of inner grace. So the outward sign, or action, is the absolution that the priest grants to the penitent. If I had gone to confession, the priest would have forgiven me of my sins, reconciling me (the penitent) to God.
Catholics believe that when we sin, we deprive ourselves of God's grace. And without God's grace, it becomes easier and easier to sin. The only way to stop the cycle is to acknowledge our sins, to repent of them, and to ask God's forgiveness. Then through the Sacrament of Confession, grace can be restored to our souls, and we can once again resist sin. Ironically, it wasn't until I came out as kinky and found myself in a formal Dominant/submissive relationship that I understood how helpful confession and absolution could be in the healing process.
In my D/s relationship, I agreed to accomplish three tasks every week. This is in addition to other protocols that we've agreed to like texting good morning and good night. The tasks are ones that I choose, like writing two chapters of my new novel, and they're things that will directly benefit my personal life and career. There also penalties for not completing them—cane strikes for each missed task. The first time I failed to complete a task, I was not only embarrassed but I felt guilty too. The task was for my direct benefit yet I failed to give it the time and attention needed to finish it. And to exacerbate the failure, I didn't report it to my Dominant. I didn't lie, but I didn't present the information. I skulked around the subject, and I felt terrible.
Finally Sir addressed the uncompleted task and my silence on the matter. When he tallied up my "sins," the number of cane strikes caused my stomach to plummet. I had the thought that I would never be able to endure it, but Sir pointed out that once the punishment was over, the slate would be wiped clean. After the caning, I would be in good standing with him and, more importantly, with myself. Through the physical act of punishment, I would be able to let go of all of the guilt, embarrassment and shame—a physical scourging to absolve me emotionally.
We joked about the parallels between my punishment and going to confession, but there's a kernel of truth there. Feeling freed from a transgression, imbued with God's grace in Catholic terms, can be an essential part of the healing process. Those cane strikes freed me of my failure to my Dominant and my failure to myself. I faced next week with renewed faith in myself and enthusiasm for a new set of tasks. It doesn't mean that I'm never going to make another mistake, but I don't feel anchored down by my guilt for the past ones. I finally understand the possibilities of grace, so I'm going to confession too. There's more healing needed, and I think the Sacrament of Penance can help me with that. Between my Dominant's eagle eye and confession with my priest, I think my slate is going to be really, really clean.