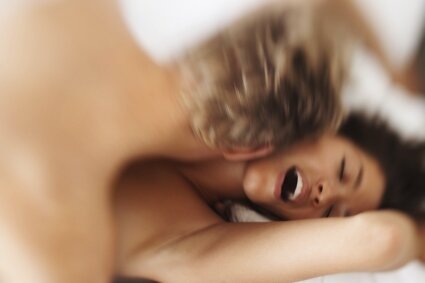 What if your love life depended on your ability to combine your need for safety and commitment with your need to explore your lust and urges? It's a salient question from any way a person views relationship, but in this context, we will consider it from a tradition currently under the microscope (some might even say attack): monogamy.
"In order for monogamy to work, it has to be 'dirty,'" writes Rabbi Irwin Kula in Yearnings: Embracing the Sacred Messiness of Life (Hyperion, 2006). I've read parts of his book many times, its folded pages and side scribbles evidence of my complete gratitude (bordering on worship) for his insight and willingness to take on a prudish establishment in the name of love. "If the forbidden is what is exciting, we have to work hard to bring the taboo into our most intimate relationships," Kula explains, thereby reclaiming naughtiness for those who ascribe in a higher power. "If transgression is so titillating, we have to learn to transgress where we're most safe." Even non-believers can proclaim Amen!
Delicious strong language coming from a spiritual leader makes some folks squirm. Our American culture shies away from opening that hot envelope, of connecting sexuality with our soulful sides, and it shows in our experiences in pleasure and attitudes towards sexual exclusivity. That's why when I discovered the website, Dick-n-Jane.com, I was immediately intrigued.
"Jane and I both emerged into our adult lives having escaped religious upbringings, which shaped our expectations of a morally acceptable lifestyle," Dick wrote when I initiated a dialogue on the topic of sex and relationship. Together with his wife of sixteen years, Dick blogs about a very personal topic: his marriage. Their site is nothing short of a salacious union of sexploitations, real and imagined fantasies, and the truth of what it takes to keep a union sensually vibrant.
"Serial monogamy leading into monogamous marriage was really the only path" he and his wife considered for reasons including culture, religion, and socialization. For them, it provided a "safe harbor and strong support for child rearing, and unrivaled quality of companionship." Through time these sex-positive bloggers, who augment their site with luscious images of their naked selves, grew to "discredit the original bodies of influence," that got them hitched, but realized that this indelible ideology created the space they needed to deepen emotional and sexual intimacy.
But, and here's where smutty comes into the picture, Dick and Jane admit the obvious. "As humans, we paradoxically hate routine but love the familiar. We often hold tight to what we know and approach change with caution." Boredom can be the death knell of marriage, which is why, "dirty sex is one branch on a tree of techniques we use to keep a sexual spark alight."
Obviously, dirty sex will manifest in different ways to different people. For some, that might mean making love with the lights on. Others will copulate at the brink of abandon, explore sexual fantasies, push against the boundaries of kink or even introduce tantric sexuality into their union.
To be certain, wild and risqué coupling doesn't just prevent monogamy from becoming monotony, or provide the tight connection to underpin intimacy and communication. After reading Rabbi Kula's book, I came to the conclusion that to defy the odds and reclaim intimacy in a world gone 'sexophrenic', I had accept that my most primitive urges – even the ones I wanted to insist belong on someone else's mind – came from a deeply spiritual source. Lust rested in the fruit of my loins, and the seat of the soul, if you will.
Overcoming fear, apprehension and sexual shame also produces anxieties, something Dick and Jane see as positive. Taking that leap into new sexual terrain excites and binds. Those built-in taboos that tell us it is dirty are the very key to forging into novel ground with your beloved, of pushing back against boundaries, and, most importantly, reuniting the sacred with the primal.
Not every act of copulation between married folks needs to be experienced with bells and whistles, pomp and circumstance, or blindfolds and feathers. Viewed from a soulful prism however, sex that pushes our comfort zones and propels us towards transcendent physical experiences is no longer taboo, but mandated. It demands that we consider how and why we ever, individually or collectively relinquished our most secret sensual selves to a sense of propriety or embarrassment. Who was I to assume that passion belongs outside the boundaries of traditional marriage?
Regardless of how each person reading this answers that for themselves, I propose that we all benefit from embracing the sacred dirtiness of sex in the context of committed love. One might even argue that it's a shame – no, make that a sin – to give up on hot and juicy lovemaking, whether or not you consider long-term pair bonding an unnatural choice incompatible with human biology, or an act of God.
Originally posted August 29, 2010