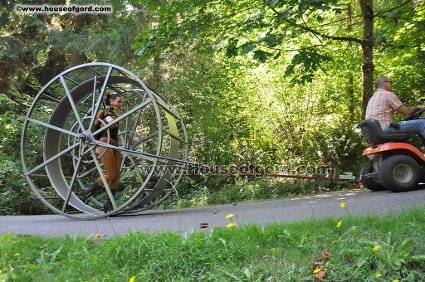 "On the evening of September 3rd, 2013 we lost a master, a hero, and a true artist in every sense of the word. His lover Femcar was with him till the very end, although not by his side. She was in her proper place, on her knees naked, below his desk."
These words shocked the world of kink and fetish. The word "pioneer" is possibly inadequate to describe the effect Jeff Gord and his inventions have had on thousands of kinksters all over the world. Just as John Willie and Bob Stanton inspired fantasies of bound women in fantastic devices, Mr. Gord brought those devices – and much more – to life through his self-described "bent" art.
According to Mr. Gord, his desire to create his fantastic devices came very early in life, when as a child he watched a woman in tight lycra doing a stage show. He was entranced by her ass, and got rather annoyed every time she faced the audience. It occurred to him that if she was tied up, she couldn't turn around.
He continued to be inspired by the works of artists such as Willie and Stanton into adulthood, when he became an electrical engineer by trade. The "House of Gord" actually started in a pigsty near Mr. Gord's home back in 1970, and he commented once that the pages of his magazine "smelled a bit funny." The magazine – later becoming a website – showed Mr. Gord's devices combined with models towards one specific purpose: "I have always loved the thought of using women as items of furniture, especially if it makes escape or movement impossible. I guess it is the thought of having such a powerful sexual being totally under control…fortunately a lot of ladies also enjoy this concept from the other side of the equation."
This technique became known as "fornophilia", a term coined by the House of Gord's web designer in the 1990's. Jeff Gord was able to channel his passion for female pleasure and his hands-on expertise into an amazing variety of both static and mobile human/machine sculptures. According to his website, the House of Gord has everything: "…fucking machines, remote controlled dildos, automated vibrators, punishment stools, mummification, time-delay E-stim, inverted penetration, pulsing pussy carriers, pneumatic dildo levers, metal cages, two-woman bondage, and forniphilia (human bondage furniture)." Some were relatively simple, such as a woman turned into a lamp or a bar stool. But some of his most famous included an actual weather vane perched on top of a barn, with a woman bound to the spinning pole, and a mounted fucking machine on the front of a truck where a woman would be bound like a figurehead.
While these might seem extreme, Jeff Gord was always concerned with the woman first. "It takes a lot of thought to make sure each one is safe, and yet looks aesthetic…I like them to look precarious, almost unsafe or not strong enough, even though they are often strong enough to lift the truck with." Aside from safety, he also did his work out of a desire to share pleasure with the women in his devices. "If the women don't enjoy it, it's no good to me," he told Princess Anne of Stripped-Down TV at his exhibition at the Erotic Heritage Museum in Vegas.
While Mr. Gord was passionately involved in the kink community, he was also passionately against internet piracy, which he saw as the biggest threat to his livelihood and that of other porn producers. He called for stricter enforcement of current copyright laws by the FBI, and worked to find innovative ways to produce content online (including "virtual" worlds) that could circumvent those that stole his content. At the same time, he was always ready to demonstrate and share his knowledge in person, creating new devices and methods for people to express their passion for BDSM.
The House of Gord (combined recently with "Naked Gord", a website featuring nude women in the devices) will continue to publish content and inspire future generations of BDSM enthusiasts. Jeff Gord truly showed that passion, imagination, and hard work can combine to make miraculous fantasies come true.
"He burst through our world, larger than life, lived and died on his own terms. He will truly be missed, and his art will live on forever."