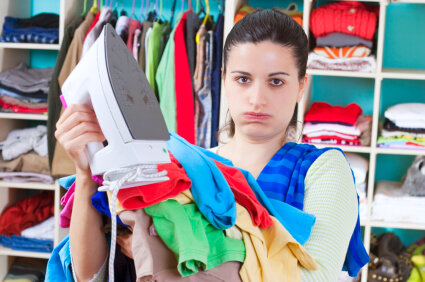 It's time to purge. Relax; my dinner is diligently working its way through my digestive system as we speak. It's time to purge my closet. Yet this thought is more stressful and painstaking than sticking my finger down my throat, which is starting to sound appealing at this point. Just standing at the edge of my closet and pondering the idea of getting rid of something makes me consider doing something drastic – like getting a corporate job so I can wear that smokin' red suit. The suit that I haven't worn in five years. Yet, there it hangs; neatly pressed and tucked into its individual IKEA garment bag.
It's been a long battle, between this smokin' red suit and I. She has stood her ground through my flight from the corporate world, through two spring cleanings, relocation and a hoard of friends who regularly shop at the Boutique de Love. But, your time has come my friend. Because, this time I am not purging for the sake of purging; because that is what we are suppose to do every spring and fall. I am purging because I had an epiphany:
I am what I wear.
This isn't necessarily about getting rid of clothes that do not express who I am. Everyone – even me – finds themselves in garments that are totally not them to appease social norms, loved ones, the courts. This red suit will never serve me again. If I do find myself in court, a funeral, even a business meeting, this wouldn't be the suit I would choose to represent me. I'm holding onto it purely for nostalgic reasons. And if my sentimental nature drives me to hold onto this part of my corporate past, the suit belongs in a new home: my craft room, a keepsake box, a scrapbook. But definitely not taking up precious space in my closet.
I need to reserve space for the pieces that express who I am. You, like many others, may think that I express myself with six inch heels, black, lots of metal, and some more black. Ok, this is true. But I'm not like every other hybrid gothic/fetish/rockabilly chic on the block. What really expresses who I am are the pieces that I choose and how I put them together. I often find that I am sidetracked from this vision by the stubborn pieces that I have kept beyond their time.
So, what else needs to go? Tee shirts that have shrunk in length; shoes that I never wear because they hurt my feet; the pants with the coffee stain that I always claim "just happened"; things I haven't worn in over a year and anything that is dated or trendy.
What stays? Pieces that are crisp and look new; things that fit properly and compliment my body type; clothes that are comfortable to wear (ok, reasonably comfortable to wear) and outfits that express who I am.
It's a painful process. Not even my husband, who refuses to throw away any tee shirt….ever, can disagree with this. But, here I go.
Originally posted September 26, 2010