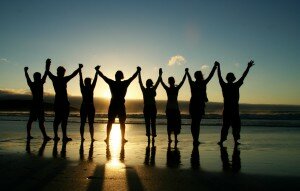 We most often think of community in a permanent way.  Whether we're talking neighborhoods or social networks, the idea is the community is always there.  You can be a part of it for years, and at levels varying from lurker to leader.  Munches are going on all the time, parties happen, people chat online, and all identify as part of a given community.  But there's a whole other world of kink that doesn't get the credit it deserves.  That is the phenomenon of the Con-Tribe, the temporary kinky communities that recharges our batteries and broadens our horizons.
Con-Tribes are made up of people drawn from the larger community who identify with a very specific special interest group or SIG.  Attendees are looking for something more intense, more in depth than their day today opportunities.  For many of us, these conventions use up our precious two weeks of vacation each year.  We choose carefully which events to attend based on our fetishes and chosen roles, often having to pick between competing events on the same weekends.  As a result, there is often a core of repeat attendees at the same events each year.  These con-tribes come together with the familiarity of family to create a stretch of magical experiences only a few times per year.
Compared to online communities, these temporary con-tribes require an intense level of organization and active work to stay running.  There are leaders that step up and book venues, manage finances, arrange work teams, and address safety issues.  Those roles are supremely taxing for the individuals who take them on, and they are often ongoing long before and after the con dates.  These leadership teams are usually supported by a short term team of on-site volunteers. Though volunteer, the temporary staff often gets free t-shirts, free admission to a future event, or other small thank-you items in appreciation of their efforts.  Volunteering is a great way to get a look at how these things work and observe kink events in progress.  Even experienced kinksters often volunteer as well as a way to give back to the groups where they got their start.  This structure of volunteerism and participant-run events means everyone has a stake in its success, and that the bottom line isn't a purely monetary one.  Lower cost also means greater access for more people to attend and learn from experienced and competent presenters.  If you're into a give-support, get-support model, check out a convention and get involved.  You'll be amazed at what happens behind the scenes.
Even if you're not into the volunteering thing, conventions can offer a liberating clarity of rules and roles.  If you go to a leather conference that offers ribbon codes for identifying, you can flag yourself in a way that makes clear to others what you do and don't want from the experience.  Within the bounds of the event, you'll be able to fully immerse yourself in your chosen role, and have others clearly understand that role. There are of course always socially awkward exceptions, but you can start with a baseline; that everyone there is kinky or wants to be.  For just a day or two, you've got an entire village of fellow freaks.  That's a sense of safety and familiarity that we can likely only dream of in daily life.
Flying your freak flag is amazing when you know those around you can 'read it'.  But not everything goes as planned.  Sometimes there are speed bumps.  You might have a scene that doesn't go quite as planned, you might find yourself a bit in over your technical head, or you might discover a new limit you didn't know you had.  When the unexpected happens, conventions may offer an extra benefit in the form of experts, advice, and in the rare case of an injury incurred in exploration, quick access to help.
As liberating as it can be to get your kink on in full force, to go to a rope intensive weekend, or to use high protocol for your every move with your partner; there comes a time when that level of focus wears on you.  This is the hidden blessing of short term communities.  They end.  The intensity and magic of the two to five days you've spent in full kinky space exists in part because you know it won't last forever. The Con-Tribe's value is born in part of this fleeting nature.  Whether you are part of a 24/7 dynamic or just trying one on for the weekend with your partner, having an end in sight means you can try things out or step up the intensity and not be stuck with it forever.  At 11:00am, you check out of the hotel, and the pressure is off.  You go home and reset to your normal lives and normal patterns with treasured memories of the event and your experiences within it.
Of course these miniature miracles of kinky immersion are likely to leave an impression. If you go home and find yourself wistful and longing for the con, remember there will be more to come.  You might even suffer a bit of con-drop, the post-event equivalent of sub-drop that attendees of Kinky Cons and SciFi conventions alike must endure.  This is especially true if the con experience included some firsts and peak experiences for you. If you venture out to your first BDSM conference and find it a bit rough on re-entry to vanilla life, give yourself little extra emotional TLC.   Reconnect with a partner, or talk about your experiences with someone who was there.  Those post-con discussions can at least help you process what you've learned, and may lead to ongoing friendships.
To be sure, you must be open to the idea of forming real connections when you attend these events in order to find them.  Watch the goings-on at a con and you will see people ready to give the shirts off their backs to their fellow attendees.  To get the most of your own experience, participate, talk, share, and support others.  In a short time you may find you have the same week of vacation blocked out each year to spend with that very special crowd, the Con-Tribe.