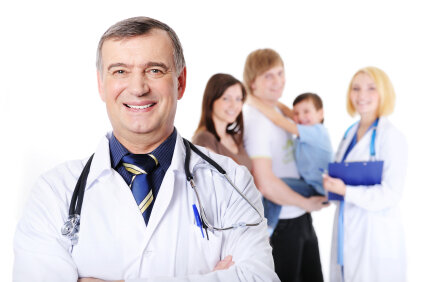 Last time in Part 1 of this two-part series I spoke to the concerns some men have about adult circumcision. In this article, I want to address prospective parents.
Here, Maggie and her husband disagree about circumcising their infant son.
Dr Dick, my husband and I have been arguing about circumcising our son since we learned we were pregnant with a boy. It is really putting a real strain on our marriage. He is not circumcised and he wants the same for our son. But the men in my family are all circumcised; and I was taught it was a serious matter of health and hygiene. Would you mind weighing in on this? The birth of our son should be a time for celebration not conflict.
I think you're both right; it is a matter of health and hygiene, but I side with your husband in terms of genital integrity. Our foreskins do have a purpose: a healthy prepuce is a natural deterrent to infection and it will be an aid to your son's sexual functioning and pleasure too.
Let's start at beginning, shall we? When us boys are born we all have a foreskin. A good portion of us will have our unit seriously altered within days of showing up on the scene. Someone, possibly a person with good intentions, will lop off 50% of our cock skin and call it a day. Those of us who escape this deed remain intact, but our foreskin is only open enough to pee through. And it only opens more if it's stretched, and it only gets stretched if the owner of that foreskin learns to pull it back over his dickhead. No foreskin ever opens by itself; it gets gradually stretched open over time either intentionally or just through normal use.
Most little boys soon discover that pulling back their foreskin feels really good. After all, this unique piece of skin is chock full of nerve endings that register loads of delicious pleasure. But besides that, a lad's foreskin needs to be pushed back regularly, in order to stretch it open, and to keep it from shrinking shut again, or worse, adhering to his dickhead. It is essential that the boy learn to do this himself, so that he pulls his foreskin back only as far as feels comfortable to him.
Of course, there in lies the rub, so to speak. The sex-negative pressures of the prevailing culture frown upon self-induced pleasure of any sort, even if it is associated with personal hygiene and necessary bodily upkeep. So most boys get the message that fiddlin' around down there, even for the purpose of essential maintenance is a no-no. Simply put, without manual stretching a kid's skin can actually shrink, closing up again. Is this good enough reason for infant cosmetic surgery? I think not. And there is plenty of research to back me up on this.
The American Academy of Pediatrics has released several statements on routine infant circumcision over the years. The first was released in 1975. The AAP said there is no medical reason for routine infant circumcision. In 1983, the American College of Obstetrics and Gynecology released a joint statement with The AAP that basically restated the 1975 position. Again in 1999, The AAP formed a task force on circumcision to study the data. They released a statement saying that there is no sufficient data to recommend routine infant circumcision to parents.
I think there is a fundamentally better way to deal with health concerns than body-altering surgery. You see, as a young fella approaches puberty there is, as we all know, a growth spurt. What most of us fail to take into account is that along with his legs, arms, torso, head and feet, his cock is also growing. His dickhead is increasing in size, and if the kid hasn't established a healthy routine of foreskin stretching there is gonna be trouble.
Since parents are not likely to encourage self-discovery of this sort, nor are they inclined to show their young uncut sons how to properly care for this exceptional body part, the kid remains clueless till a problem arises. Wouldn't it be so much simpler, as well as the responsible thing to do, for all parents with intact boys to pass on this priceless nugget of wisdom. It would be so easy to do while the kids are enjoying their bath. Parents could show their boys how to retract this fold of skin so that it stays supple, as well as getting things rinsed out underneath. They could encourage their boys to always pull back their lace curtains when they pee. Merely the number of times a fella will handle himself to piss will automatically keep things more lubricated and elastic.
This article was originally posted March 6, 2011